As well as being "Memorial Day", did you know that today is also "National Wine Day"? So, pour yourself a glass of your favorite wine and enjoy! Celebrated each year, it has a sister holiday in February, National Drink Wine Day!
Unlike National Drink Wine Day, Wine Day is more about celebrating the wine itself rather than the act of drinking it – although of course, that shouldn't stop you from enjoying a glass or two!
A little bit of the history of National Wine Day
The oldest evidence of wine that we have dates way back to 7000 BC China, and wine has been a part of our daily life for over 9000 years! It was first introduced in California in 1812 by Spanish missionaries, and ever since then California has dominated American wine production, and is now home to over 4,000 wineries state-wide.
Nonetheless, wineries are found across the US with at least 3 in every state, and the most frequently visited winery today is the Biltmore Estate in Asheville, North Carolina seeing over 1 million people annually.
A few ideas for treating yourself or a gift for National Wine Day
A Wine Wand and Charm
Consumed in moderation, wine has many health benefits, such as better cardio-vascular health, reduced metabolic disease, greater longevity and improved cognition. But for some people, it can also cause allergies and significantly impair their enjoyment.
Imagine enjoying a glass of wine without the headaches, flushed cheeks, upset stomach and even the hangover! PureWine provides the only wine filters that eliminate wine headaches and other negative side effects, by removing the sulfites and histamines responsible for the allergic reaction.

PureWine was founded in 2014 by a father and son team, Dr. David Meadows and his son Derek. Both suffered from headaches and other allergic reactions related to their favorite wines. Instead of "whining" (haha !) about their problems, they turned to the science of wine to create two filters that selectively remove histamines and sulfites without otherwise changing the chemistry of the wine. In 2016, the duo launched the first PureWine product, The Wand™, for a glass of wine, followed in mid-2018 by The Wave™ for a bottle of wine. The mission of PureWine is to end the problem of wine sensitivities and to enable more people to enjoy the unique pleasures and health benefits of wine.

With PureWine filters, you can quickly remove the histamines and sulfites — the culprits causing those uncomfortable side effects of wine sensitivities. And what you'll always get is nothing but…PureWine™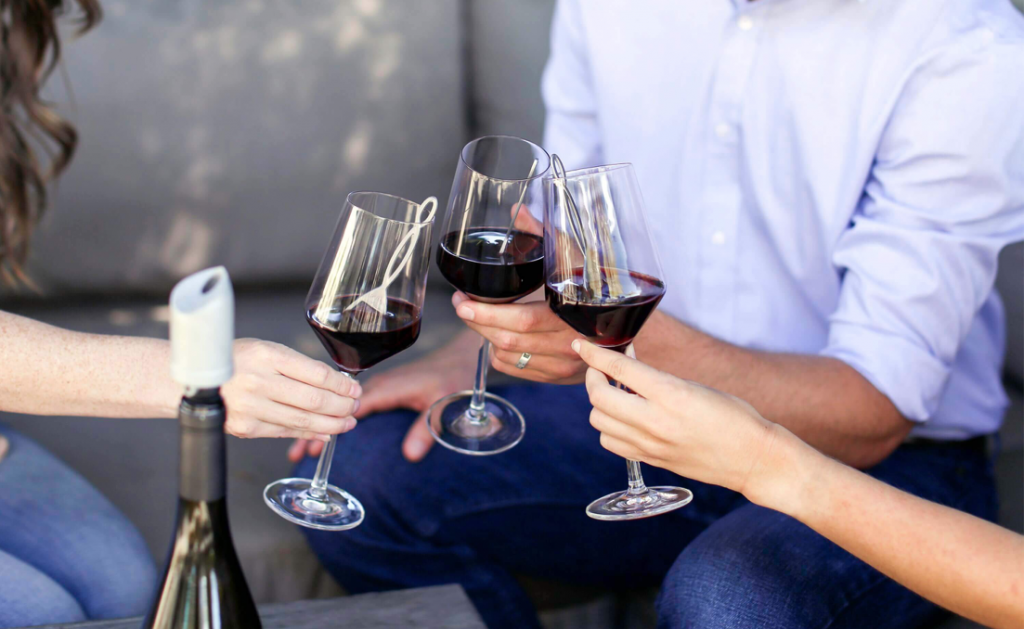 Wine has a complicated relationship with oxygen. When wine is exposed to oxygen, the wine evolves, as the tannins (which make wine dry and astringent, but wonderfully complex) soften and the aroma and color flourish. Yet wine ages quickly when exposed to oxygen, and can then turn 'bad'. We have all experienced the bottle of wine that quickly becomes bitter and undrinkable if left opened for too long.
The Wave™ aerates wine by managing the effect of oxygen, to bring out the intensity and structure of wine. The Wand™, the by-the-glass solution, has the same filtration effect on wine as The Wave™ and quickly aerates wine during the stirring process.
Pure Wine have recently introduced four different Charm Wands, where the end handle designs twist off and attach to any wine glass, thereby ensuring that everyone can identify their own glass all night long! The Wand comes in packs of 4,10, 30 and 90, and twist-off charms include hearts, lucky clovers, wine drops and diamonds. 
The Wave™ and The Wand™ work on all red and white wines. The Wand™ also works with rosé wines and sparkling wine, such as champagne or prosecco, but the stirring action may cause them to lose their effervescence more quickly if used beyond the recommended 3-8 minutes.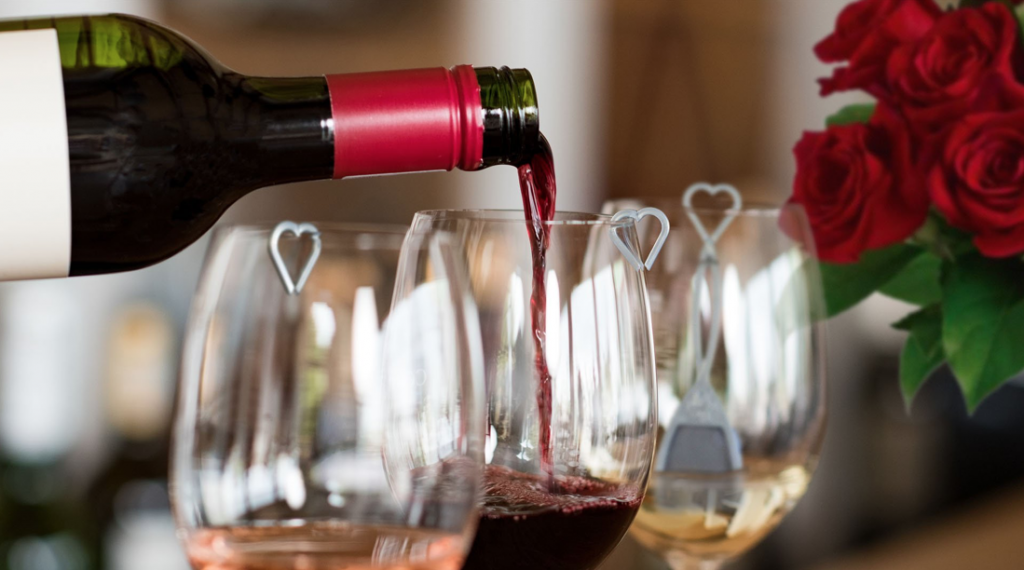 Both The Wave™ and The Wand™ are single-use products. One Wave will filter and aerate an entire bottle of wine. One Wand will filter a single 6-ounce glass of wine. This usage will ensure the most effective removal of histamines and sulfites, but their effectiveness can be significantly decreased if The Wave is used for more than one bottle, or if a Wand is used for more than one glass of wine.
To find out more and to purchase have a look here. New customers get 20% off their order.
A Wine Preservation System

If you don't want to finish the entire bottle of wine, then a wine preservation system removes oxygen and seals in the flavour of the wine so that you can enjoy wine at a later date without spoilage or oxidisation.
The Coravin wine access system allows you to pour wine without opening the bottle thanks to a medical-grade non-coring needle and so you will never have to pour away spoiled wine again! 
Or how about, A wine credit card ?
Rewards and payments innovator Vertical Finance is throwing open the waitlist for its upcoming Grand Reserve™ World Mastercard® consumer credit card designed specifically for wine enthusiasts, giving early adopters the potential to amass significant bonus reward points. Building on the success of the standalone Grand Reserve rewards program, which rewards consumers for their purchases at wineries, wine shops, and wine clubs, the Grand Reserve World Mastercard accelerates rewards earnings for oenophiles as they pursue their passion for wine.
The Grand Reserve credit card has been designed with wine enthusiasts in mind and will include many distinctive benefits tailored specifically for wine lovers and will enable cardholders to earn points on even more purchases than the current rewards program. This new offering will also enable cardholders to earn points on non-wine-related purchases and benefit from heightened rewards and exclusive offers and invitations, whilst earning bonus points on purchases from any wine merchant.
With over 300 partner wineries and 17,000+ liquor stores and other wine sellers as well as a carefully curated catalog that continues to grow, Grand Reserve Rewards is changing the conversation about loyalty, allowing cardholders to redeem points adventurously. 
Over the coming months, select consumers – based on their position on the waitlist – will be invited to apply for the new Grand Reserve credit card prior to its general launch later in 2020.
Early adopters who join the waitlist will earn an additional 10,000 bonus rewards points when they are approved for the credit card, over and above any sign-up bonus offered at that time. Current Grand Reserve rewards program will earn an additional 10,000 bonus points upon approval (for a total potential of 20,000 bonus points above and beyond any sign-up points).
To join the Grand Reserve™ World Mastercard® waitlist, consumers should sign up here . Wine enthusiasts can also sign up to the existing Grand Reserve rewards program by registering on the website to immediately begin earning rewards points and benefit from accelerated rewards earnings upon approval of the credit card application. *
"We are excited to share with the world today a peek at what we're building for wine enthusiasts," said Matthew Goldman, Founder and CEO of Vertical Finance. "Consumers deserve more options for rewards cards beyond boring bank programs and travel programs that can be very challenging to understand. Grand Reserve is committed to a straightforward rewards program and easy redemption." 
Vertical Finance is a 1% for the Planet company, a global network of businesses, nonprofits, and individuals working together for a healthy planet, committed to giving 1% of gross sales each year to approved nonprofit partners.
I hope you enjoyed this article about National Wine Day, and I will be back soon with some more style, lifestyle and travel inspiration.

Julia xo
blog : thevelvetrunway.com , instagram : @julia.rees
*Restrictions apply. See terms and conditions for more detail at grandreserverewards.com/waitlist. Cards are issued by Celtic Bank, a Utah-Chartered Industrial Bank, Member FDIC.
#nationalwineday
#purewine
#wine
#wineallergies
#winecharm
#winecreditcard
#wineenthusiast
#winelover
#winepreservation
#winewand