Hi everyone and Welcome back to the European Travel Section of The Code of Style Magazine., and our article about the French resort of Evian-les-Bains, where you can ski in the morning and sunbathe in the afternoon.
Evian-les-Bains is a scenic French spa town on the shores of Lake Geneva, and with its Belle Epoque history, stunning lakeside location, pedestrian streets and famous mineral springs, it has a lot to offer, either for a weekend trip, a spa trip or for a longer stay.

It has everything you could need, despite its small size (less than 10,000 population), including a lakeside walkway, a thermal spa, a casino, pedestrian streets, cafés, a golf course, a marina, boat trips on the lake and stunning Belle Epoque architecture.

But the real draw lies just outside, on the slopes and in the waters that offer activities for every season—from ski resorts (less than 10 minutes away) to lakeside beaches and watersports— making it ideal for all year round tourism.

Evian History and the Spas
Evian-les-Bains means, quite literally, "Evian the Baths" and it derives its name from the spring water which you can taste at the Cachat Spring source.
The discovery of Evian mineral water and its health benefits dates back to 1789 when, during a walk, the Marquis of Lessert drank water from the Sainte Catherine spring on the land of a Monsieur Cachat. The marquis, who was allegedly suffering from kidney and liver problems, claimed that the water from the spring cured his ailments. Word spread so Monsieur Cachat fenced off his spring and began selling bottles of this special water to the local community.
In 1806, the first thermal spa opened, followed in 1826 by the first bottling facility. With thermal spas very much in vogue, the town quickly became a fashionable destination drawing in visitors from all around France and beyond, resulting in a decree in 1865 authorizing the town to be renamed "Evian-les-Bains".
Over the decades it has attracted many famous guests such as the British Kings George V and Edward VII, and Egypt's King Farouk, and the Evian Royal Resort is reputed to be the favorite holiday destination of former French President François Mitterrand.
The Cachat Spring is located on the Avenue des Sources, and was built in 1903. There is a continuous stream of Evian water straight from the source, 365 days a year, so you will see quite a few locals filling up their bottles there.
There are three spas in Evian, but only one offers thermal cures with the famous Evian water, and that is Evian Les Thermes . This modern spa facility is very close to the lakeside and the Hilton hotel. It has a pool, a sauna, hammam and a fitness room. They have a 'day entry' package for 30€, including access to the fitness room, classes, pool, jacuzzi, sauna and hammam.
They also offer a range of treatments, including facials, massages, waxing, manicures, pedicures as well as 2 and 3 day 'spa cure packages'.
The Architecture
You can pick up a map from your hotel or from the tourist office, located at Place de la Porte d'Allinges. You can then choose to do an orderly tour by following the brass raindrops embedded into the pavement around town. Or if, like me, you can't find them all, then you can just wander from site to site. There are also a certain number of guided tours, but only during the summer months.

Whatever you choose, here are five key monuments you shouldn't miss:
i) The Town Hall (Villa Lumière)

This French-Style villa was the former home of the Lumière family. It was bought in 1896 by Antoine Lumière, a painter and photographer from Lyon, who invented the instant photographic plates that would make him rich and famous.

His sons, Louis and Auguste Lumière, invented cinematography and made the first ever motion picture, using the 'cinématographe'. The Lumière brothers shot footage of workers at their factory leaving at the end of the day, and showed the resulting film, "La Sortie des ouvriers de l'usine Lumière" ("Workers Leaving the Lumière Factory") at an industrial meeting in Paris in March 1895.

The villa became Evian's town hall in 1927, and is listed as a historical monument. You can still visit the hall and the "golden lounge" on weekdays from 9 AM to 11.30 AM

ii) The Palais Lumière
The Palais Lumière was built in 1902 as a combination spa and pump room, and in 2007 it became Evian's new Culture & Congress Centre, and hosts various exhibitions.
If I have piqued your interest to know more about the Lumière brothers, it is currently home to an Exhibition "Lumière, le cinéma inventé". The exhibition will run until 6 September 2020.
iii) The Casino
The Casino was built in 1912 by the architect J.A. Herbrard on the site of Blonay Castle, which was bequeathed to the town in 1877 for a gaming house. Don't forget you have to be over 18 and have valid ID to enter.
iv) the Cachat Pump Room
Built in 1903, this former pump room is a striking pavilion with wrought iron, glass and a fancy tiled cupola, not to be confused with the Cachat Springs (the outdoor fountain behind the building and open 365 days a year 24/7!).
Back in the day, every spa town worth its mineral salt had a pump room. It's where society spa goers would go to be seen, drink the water, socialise and gossip viciously.
However, it was unfortunately closed during my visit to Evian, so if you visit it let me know what I missed!
v) The funicular railway
The funicular railway was initially constructed to transport guests from the elegant Hotel Royal Evian Resort at the top of the hill (as well as the palatial Hotel Splendide, which no longer exists), down to the spa baths. At that time the baths were in the Palais Lumière.
Today, the funicular (which you can find behind the Palais Lumière) has been completely restored, and can still be used to access the Hotel Royal Evian Resort.
The funicular is free, however coffee, afternoon tea or a spa treatment at the 5-star Hotel Royal Evian Resort is not! This majestic hotel, which celebrated its 110th anniversary in 2019, sits on top of the hill and presides majestically over Evian like a bedazzling crown.
It was built in honour of King Edward V11 of England and inaugurated in June 1909. However, the monarch who was to have been one of the hotel's first guests, died without having fulfilled his promise to visit.
Its walls have, however, welcomed a long list of celebrities and nobility passing through, such as the Queen Mother, Edith Piaf, Stravinsky, Marcel Proust, and the elusive Greta Garbo, to name just a few.
You can linger for a coffee and on Sundays you can treat yourself to afternoon tea. However, access to the wellness facilities (pools, jacuzzis, steam room and fitness room) is exclusively reserved for hotel guests.
Be warned, the funicular only runs from mid May to mid September, so if you visit out of season, like I did, you will have to walk up! (Not such a bad thing if you have been partaking of the alpine specialities!)
Skiing
There are two ski resorts within a ten to fifteen minute drive of Evian-les-Bains. These are Thollon les Mémises and Bernex.
Thollon les Mémises is about 14km from Evian, and boasts 50km of skiable domain, for every level from beginner to black runs. (2 green, 2 blue, 9 red and 2 black runs). There is also a snow park, a ludo park, a toboggan run, cross country skiing, as well signposted walking paths.
Bernex is just over 10kms away and there is a free shuttle service from Evian to Bernex during French school holidays.
As well as all the usual activities associated with skiing, you can also go dog sledding and snowshoeing and Bernex has a covered swimming pool, an ice-rink, and in the Spring you can also go rafting or canyoning.
The ski pass covers both domains and comprises 26 ski lifts, over 80kms of skiable domain (including 6 green runs, 8 blue, 15 red and 6 black!). There is also a ski school at Bernex.
The Lakeside and the Beaches
Evian is also right on the lakefront and in Summer, you can relax on the lakeside beaches. In fact, in April, thanks to Evian's unique location, you can ski in the morning and sunbathe in the afternoon!
Other ideas for a Summer stay include a cruise on Lake Geneva on the restored paddle steamer, "La Savoie", or you can take a boat tour to the wonderfully-named "Pré Curieux Water Gardens" , a protected wetland accessed by solar-powered boat.
You can only get there on a guided tour. Boats depart from Quai Baron de Blonay, which is in front of the Casino.
Sightseeing in Lake Geneva
Some of the most beautiful places to visit within driving distance of Evian-les-Bains include:
Yvoire
Yvoire is considered to be one of the most beautiful villages in France, and it has been part of the association of the Most Beautiful Villages of France for the last 20 years.
It has over 700 years of history, with ramparts, fortified gates and an impressive 14th century castle. It, of course, also has stunning views over Lake Geneva and a visit to the 'Garden of the Five Senses' is a must!
You can drive around to the Swiss side of the lake or hop on a boat to Lausanne, and places you shouldn't miss include Chillon Castle and Montreux.
Chillon Castle
This medieval fortress on the shores of Lake Geneva, and just a short distance to Montreux, is the most visited monument in Switzerland, with 350,000 visitors every year. Perched on a small island on Lake Geneva with breathtaking views of the surrounding Alps, Chillon Castle is a sight not to be missed during any visit to Switzerland.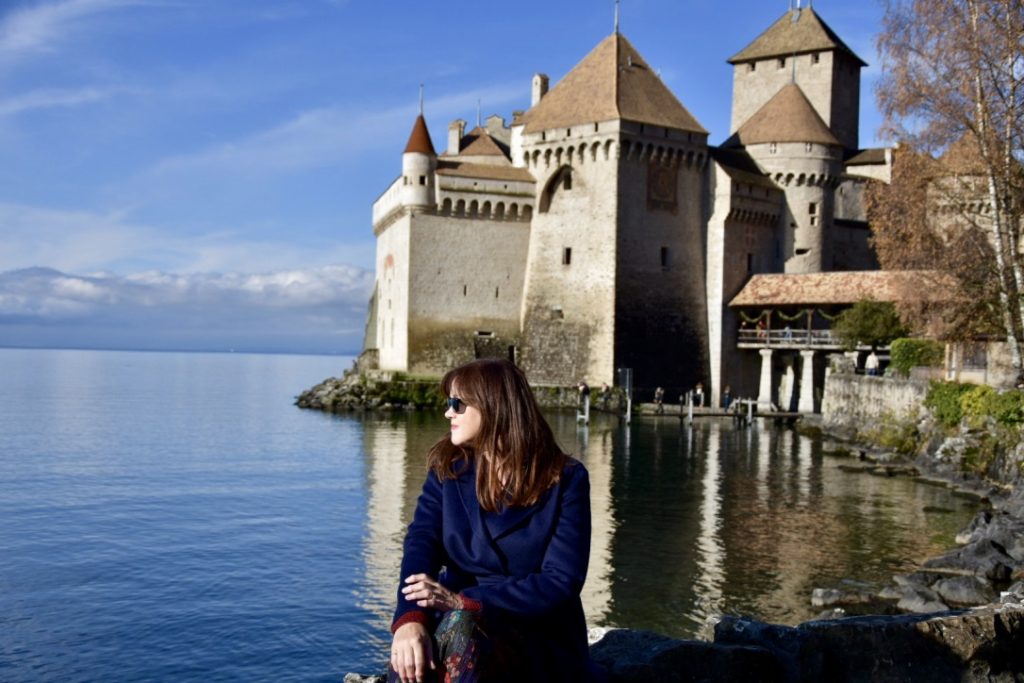 This romantic castle was long of strategic importance in controlling trade in the Lake Geneva region. You can explore the Castle's numerous courtyards, battlements and the underground area where Gothic-style vaults and numerous legends await you. Wander through the Great Halls, where the Savoy family held their sumptuous banquets, or visit the rooms in which the Duke of Savoy and his family spent their everyday life.
The dungeons are an impressive architectural feat, as they are cut into the rock base of the castle. They were immortalised by Lord Byron who wrote 'The Prisoner of Chillon', about the life of François Bonivard, a Genevois monk, who was imprisoned there for four years in the 1530s for the crime of committing unpatriotic acts against the Savoys.
The poet directly references the château in the line, "There are seven pillars of Gothic mould/In Chillon's dungeons deep and old…"
Byron was so enamoured with the place that he etched his name on to one of the castle's gothic pillars and his scrawl can still be seen today.
You will also be able to visit an array of permanent and temporary exhibitions located in the castle, with themes ranging from local history to contemporary art, all connected to the castle or its surrounding area. The castle is a family-friendly destination and kids of all ages will enjoy exploring its grounds and rooms.
Montreux
Set against the stunning backdrop of the Swiss Alps and nestled on the shores of Lake Geneva, Montreux has attracted an impressive list of past visitors, such as Lord Byron, Percey Shelley and Charlie Chaplin.
Don't miss wandering around the old town, and a stroll along the beautiful lakeside promenade.
If you're there in Winter, then the Montreux Christmas market is a 'must'. Montreux completely transforms itself in preparation for the event, and the whole city is decorated to celebrate the festival in style.
Where to Stay : Hotel Les Cygnes
With old-fashioned charm, a warm welcome and an excellent restaurant, the 3-star Hotel Les Cygnes has a prime waterfront location, close to Evian town centre.
It was closed for several years, before being purchased and lovingly restored by the present owner in 2000.
No attention to detail is spared: on arrival we were greeted with a basket of fruit, pastries and beautiful flowers, and each room is beautifully decorated.
The rooms are both cozy and comfortable, and yet also spacious, and some rooms have a lake view.

I won't tell you about breakfast – I will just let the photos speak for themselves!! Another lovely attention to detail is the day's weather forecast, horoscopes and some suggested activities for the day, which is placed on the breakfast table.
The restaurant is in a lovely setting and a wide variety of food is offered, including a daily fixed menu (from Monday to Friday), and in the Winter 'Savoie' specialities, such as cheese fondue are also available.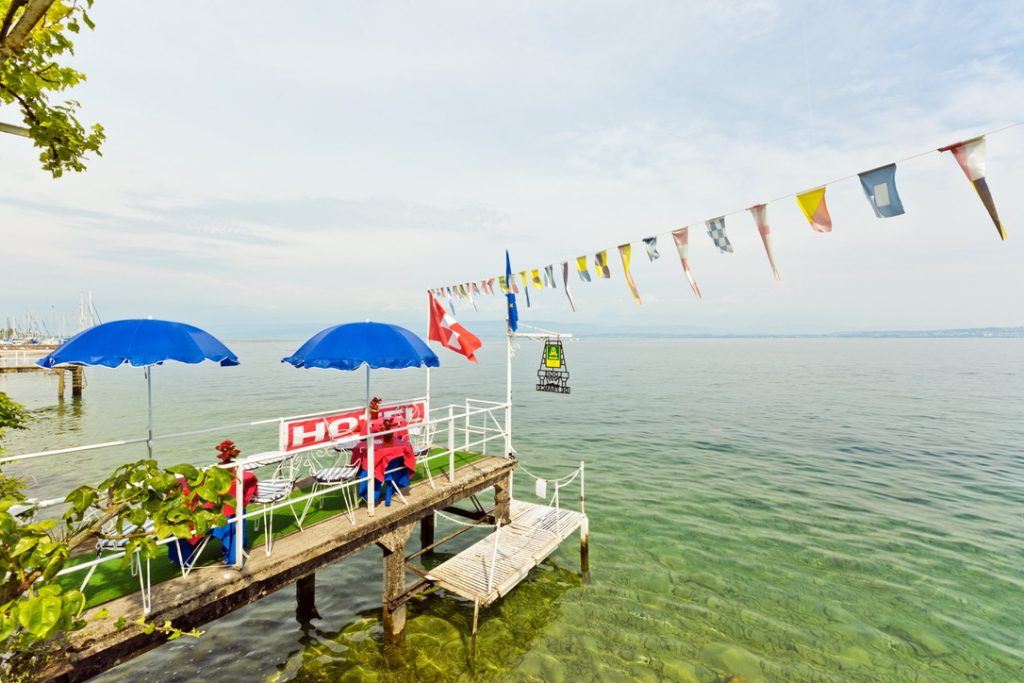 In Summer, the hotel boasts an outdoor dining area, a mooring spot for arrival by boat, sun-loungers and a pool. You can also borrow  bicycles for the day and there is a mini-golf just opposite the hotel. 
I hope you enjoyed finding out more about Evian-les-Bains , and if you decide to visit this area, I'm sure you won't be disappointed. I'm Julia, the Senior Travel Editor and I can't wait to share some more travel inspiration with you again soon!
Happy travelling !
Julia xo
Instagram: @julia.rees_

@europetravel
#europeantravelguide
#evian-les-bains
#hotellessygnes
#travelguide
#wanderlust
#whattodoinevianlesbains
#whattoseeinevianlesbains
#wheretostayinevianlesbains
europeantravel