Hi everyone and Welcome to the Style Section of The Code of Style Magazine., and a review of the Winter Box of Style by Rachel Zoe. 
If you read my post on Christmas Gift ideas, you will have seen that I recommended subscription boxes, as one gift idea and I briefly mentioned Rachel Zoe's Box of Style.
So, I wanted to give you a bit more information on the Box of Style today as the Winter Edition is now out! The Box of Style is a quarterly subscription box, curated by Rachel Zoe and her team featuring over $400 of seasonal fashion and beauty finds for under $100.

The box has a very luxurious and glamorous feel to it, the packaging is gorgeous and all the items are luxurious and work for both day and night, which is perfect for the holiday season, whether you're relaxing at home with family and friends or out at a party.
Here's a close-up look at the items in the Winter Box of Style
The Luxe Layer: Floral robe from Maison Du Soir, Retail Value $150
The neutral floral print on a black background ensures this kimono style robe can be worn as casual or dressy.
Styling Tip : Layer it over a knit sweater and jeans for a casual chic winter look, or wear it as your at-home lounge attire.
The Everyday Adornment: AF Diamond Pendant by Andrea Fohrman, Retail Value $200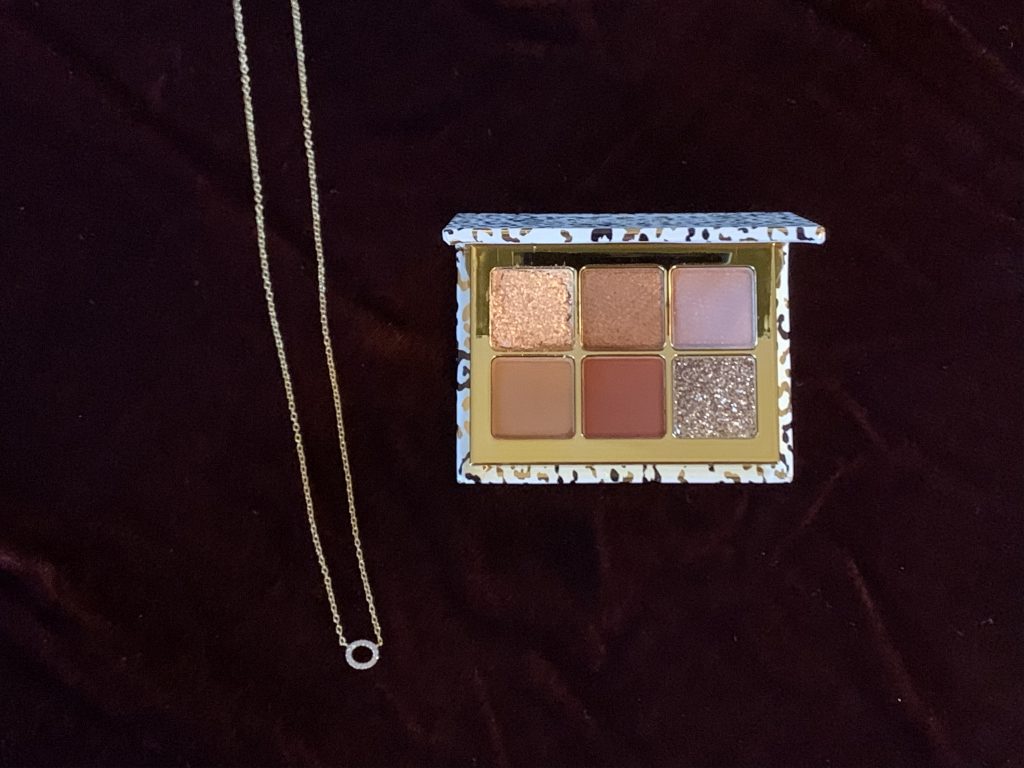 This diamond-encrusted pendant necklace is simply gorgeous and can easily be worn both day and night.
It's gorgeous on its own, but the adjustable length means you can easily layer with other necklaces too.
Styling Tip: Wear alone for a touch of everyday glamour with your favorite T-shirt and jeans, or layer with gold, silver, rose gold or any of your favorite pieces for a more glamorous look.
The Radiance Rescuer: Estée Lauder Revitalizing Supreme + Global Anti-Aging Cell Power Creme, Retail Value $55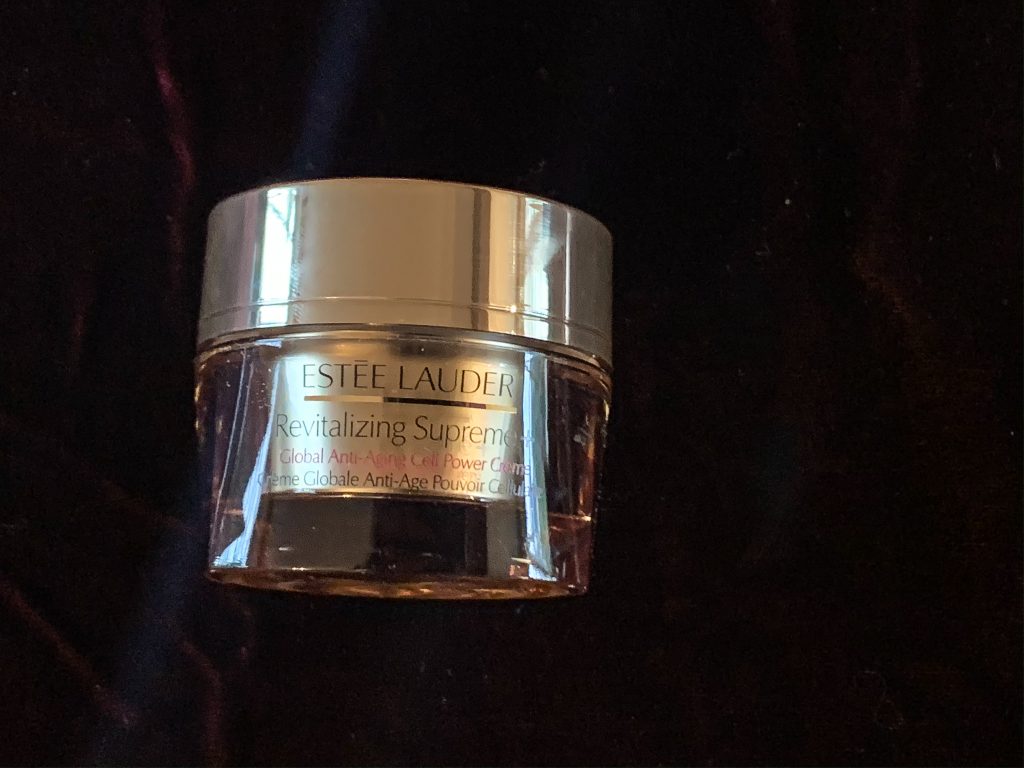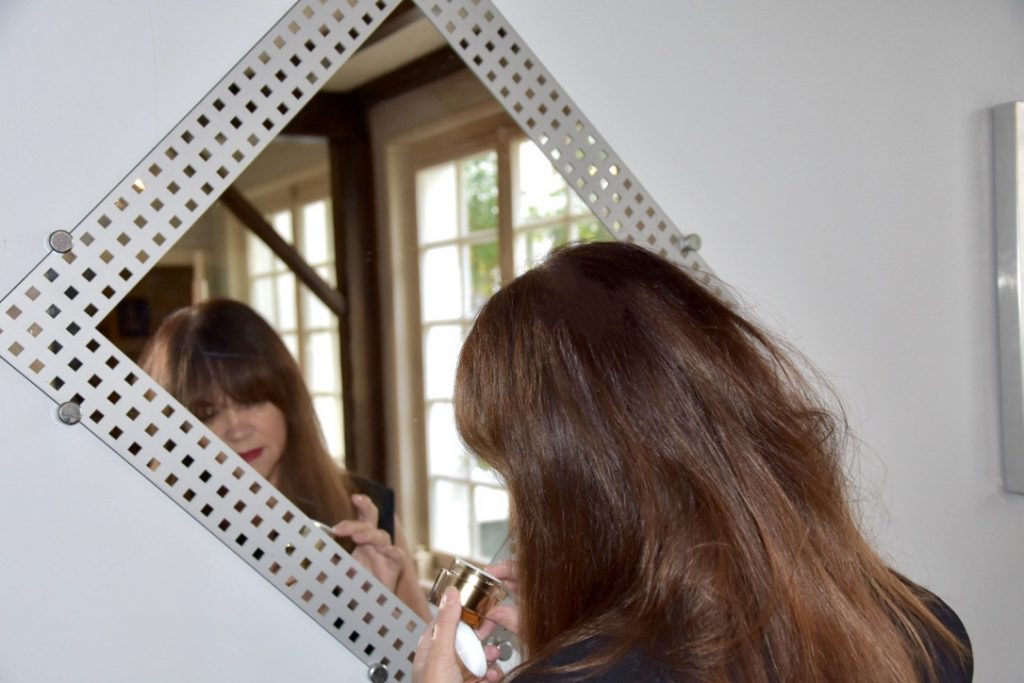 This luxurious moisturizer contains Moringa Extract to help boost skin's natural collagen and antioxidants to reveal healthy, glowing skin as well as hyaluronic acid to lock in moisture all day.
Skincare Tip: Apply to your face and neck, both morning and night, after your preferred serum
Glam On The Go: Rachel Zoe x LORAC Hollywood Glamour Mini Palette, Retail Value $15
Members can choose between two beautiful palettes (warm bronzes and golds OR inky blacks and silvers), so whatever your skin tone, Rachel Zoe has you covered!

Beauty Tip: For subtle glamour, use darker tones on the outer corner of your lid, and blend into lighter shades towards the center. For a bolder look, apply deeper shades in the crease and along the lash line and finish with a sweep of lighter color on the inner corner and across the brow bone.
The Cozy Essential: Starry Night Candle from Ethics Supply Co., Retail Value $38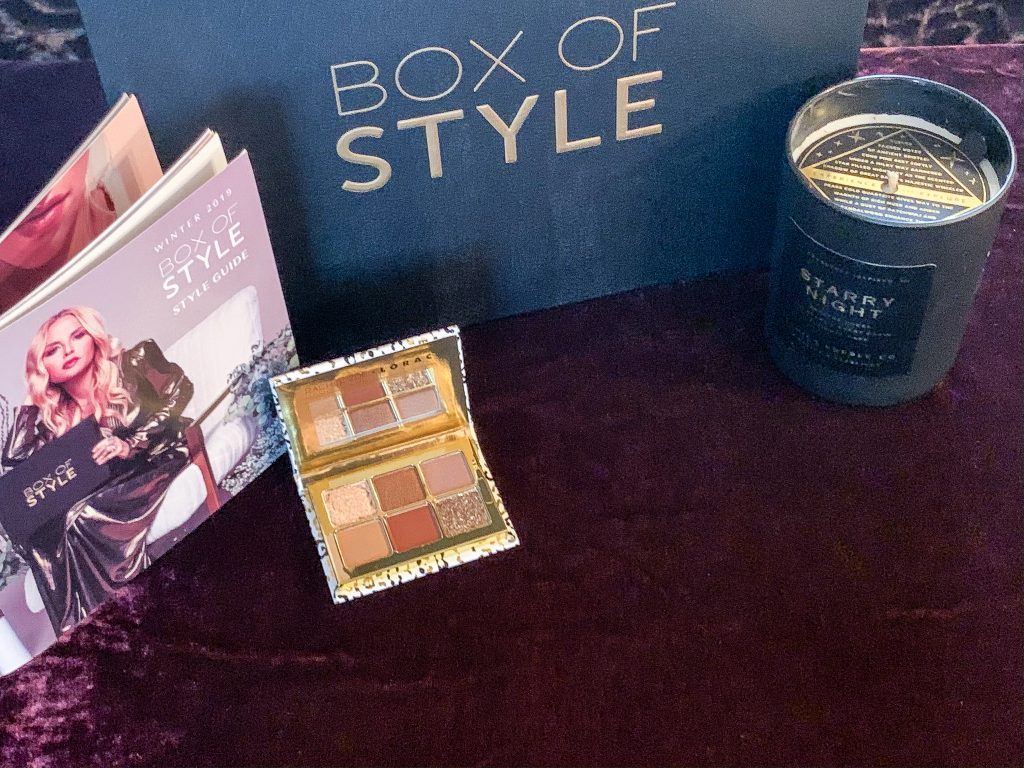 I love the cozy atmosphere created by candles all year round, but in Winter, there's nothing better than wrapping up in a cozy throw in front of a log fire, and sipping hot chocolate by candlelight.
This candle is hand-poured in the USA, using a wax blend infused with essential oils, and it smells divine but not too overpowering.
Relaxing Tip: Whether you're entertaining or spending a quiet night in, the relaxing cool-night scent with hints of pinecone will create the perfect ambience anytime of the year
How the Box of Style Subscription works
This is a quarterly box subscription – one for each season. It generally contains a mix of fashion items, jewelry, and skincare.
You choose your Subscription Plan – either the quarterly plan and pay as you go or sign up for the year and receive a $50 discount. You set your preferences in your profile and you also have the possibility to purchase add-on optional products.
As a subscription service, Box of Style will automatically renew until canceled.
Shipping Dates
Spring boxes begin shipping mid-March
Summer boxes begin shipping mid-June
Fall boxes begin shipping mid-September
Winter boxes begin shipping mid-December
Boxes currently ship to the US, Canada, Australia and the UK.
Overall Thoughts about The Box of Style
This is a great way to discover luxury items that you might not otherwise purchase.
Box of Style is a luxury subscription box perfect for anyone who appreciates good quality, luxurious products and wants to discover new brands.
And, I also think that this would make a lovely gift for someone special in your life. If you are an active member, you can gift a single box to a friend or loved one.
The Box of Style Subscription is $99,99 per quarter or $349,99 for a year's prepaid subscription. I added up the value of the products in the Winter Box of Style and it comes to a grand total of $458, compared to a purchase price of less than $100!
And, that's not all! You can use WINTER25 for $25 Off The New Winter Box.
I hope you enjoyed this article about the Winter Box of Style and I can't wait to share some more tips from France with you soon. I'm Julia Rees and I'm a French-based Style Coach and the founder and owner of the 'Style with Julia' Styling Agency.
Wishing you a fun festive period and in the meantime, you can find inspiration on my blog and follow along on Instagram. Don't forget to check out all the other fabulous posts by the other Editors and follow The Code of Style on Instagram.
Julia x

#beautyreview
#boxofstyle
#boxofstylereview
#giftideasforher
#rachelzoeboxofstyle
#stylereview
#subscriptionbox