Hi everyone and Welcome back to the Fashion Section of The Code of Style Magazine, and I'm delighted to share with you this post about "NYFW Fall 2020", by our Contributing Columnist for Fashion, Allie from Allie NYC
I once again had the extreme pleasure of attending the Flying Solo shows for NYFW. I attended both the ready-to-wear and couture shows and was duly impressed by both presentations. In an age of a disruptive industry, what some are referring to the retail apocalypse and the rise of online streaming, and very crowded and competitive space Flying Solo seeks to unite fashion, support up and coming designers and pay homage to the city that has always been at the heart of fashion.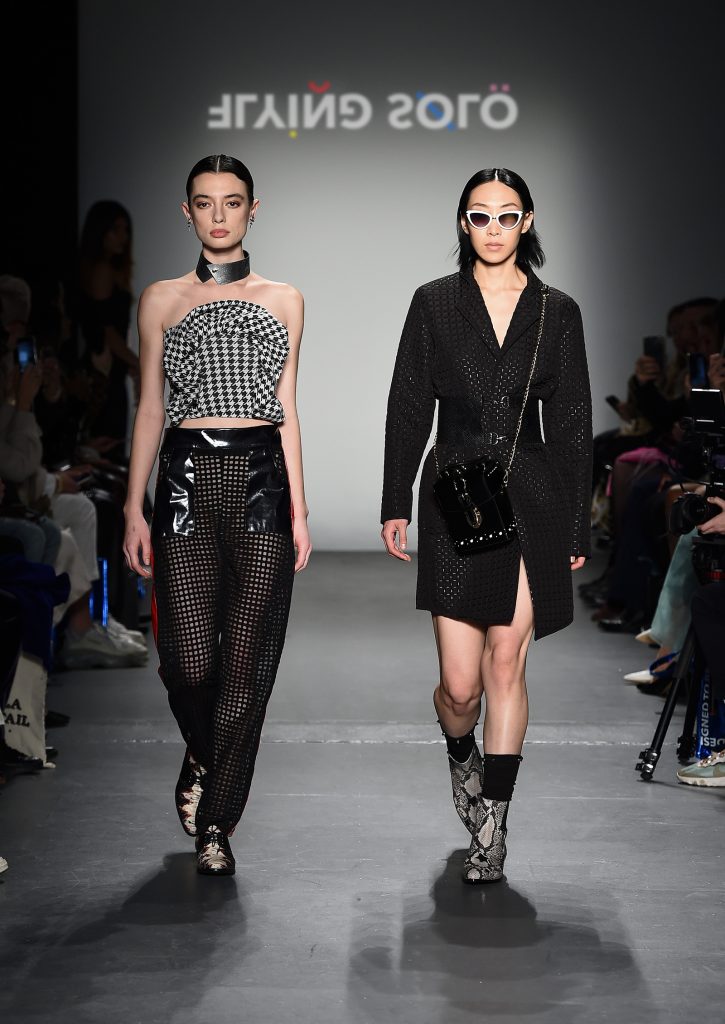 Tom Ford may have snubbed his nose at New York, and other well known brands may only show overseas but Flying Solo is committed to the New York fashion scene and to that end plans on opening two additional locations in addition to their recently expanded store front on West Broadway in Soho. They also launched an invitation only service called The Copper which such notable clients as Cardi B, Bella Hadid, Alicia Keys, Coco Rocha, Vanessa Hudgens, Leandra Medine among many others.
This warms the bottom of my fashionista heart. In a time of so much uncertainty, competitiveness and a future of an algorithm dominated society, it is is refreshing to see come across an old school sense of unity and support. I was lucky enough to be part the Flying Solo Fashion Week experience and also attend their pre show fitting day. Stay tuned for coverage on that in my NYFW Fall 2020 vlog. I am sharing with you some of the looks from both shows. I am sure you will be as excited as I was to attend. I hope you enjoy!
The designers showing this year is as follows:
READY TO WEAR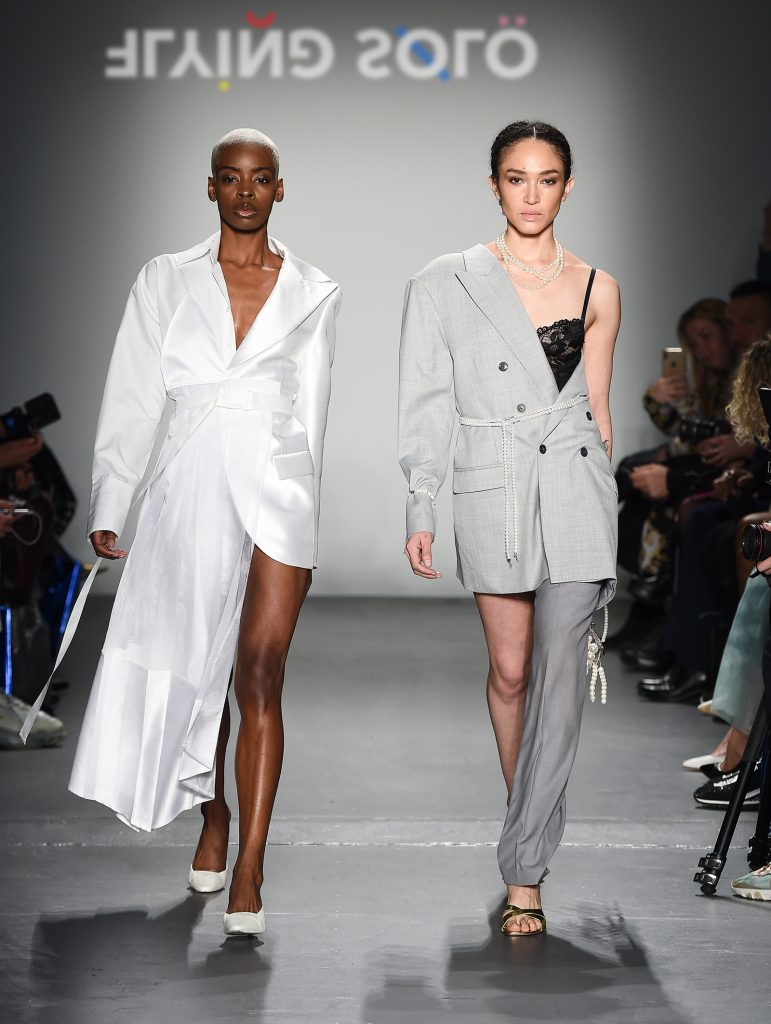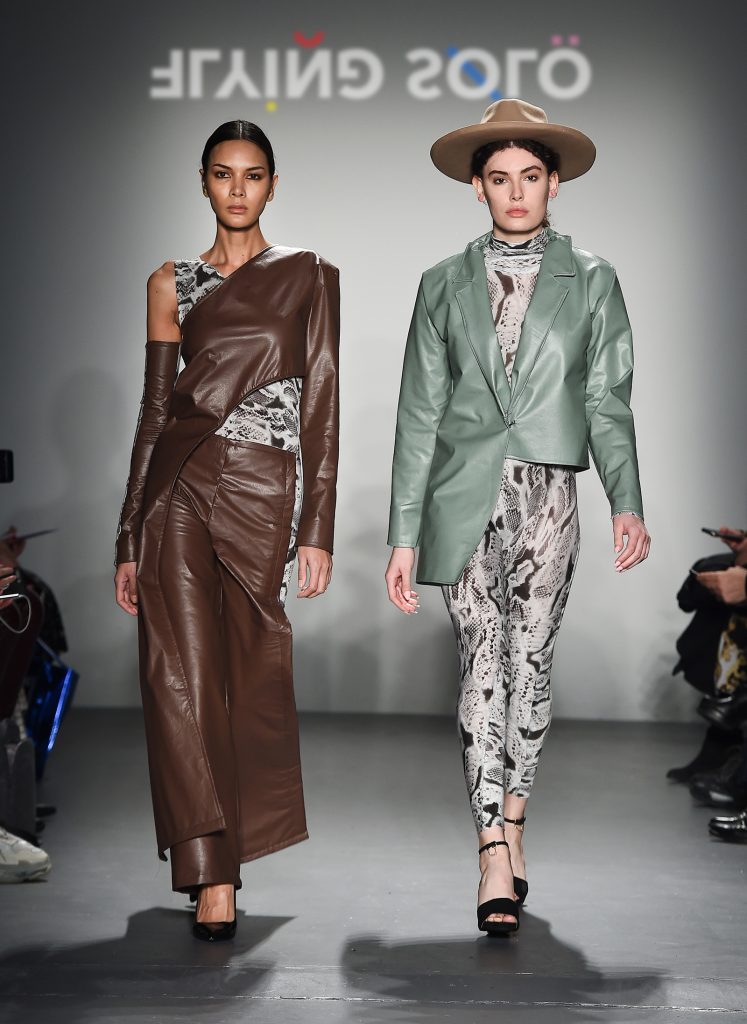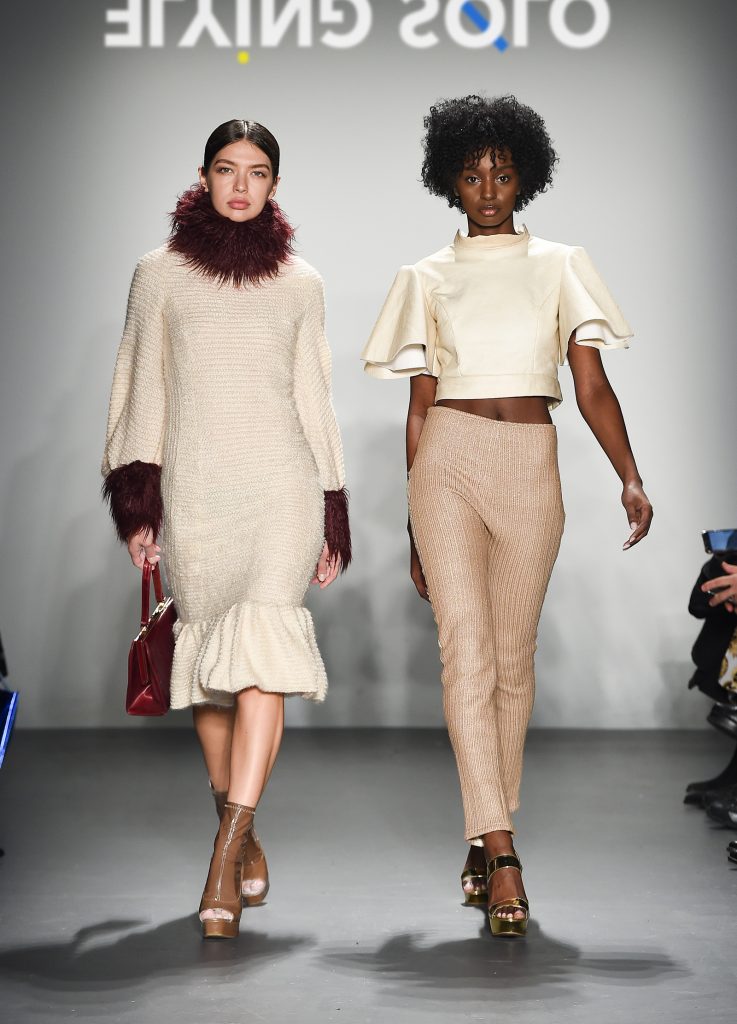 Ready to Wear: Accessories by NORTON AND HODGES, and Jewelry by GEORGINA JEWELRY, LO BOUTIQUE and Jewelry by GLAMROCKS JEWELRY, TRBROWN, VICTORIA'S ARCTIC FASHION, TALAMADE, ARTPOINT, BRODIE CASHMERE with Bags by SSY DESIGNS, DONNA ZHONG, ALICIA CALERO with Jewelry by GLAMROCKS JEWELRY, DULCET, PATRICIA GOVEA COLLECTION with Shoes by PER FIDEM and Accessories by NORTON AND HODGES, LALITA with Accessories by NORTON AND HODGES, SUKAZ with Jewelry by GEORGINA JEWELRY, DHANIR with Accessories by B_DODI and Sunglasses by FANCY TROUBLES, SHABEEG, FREAKBUTIK with Accessories by B_DODI
COUTURE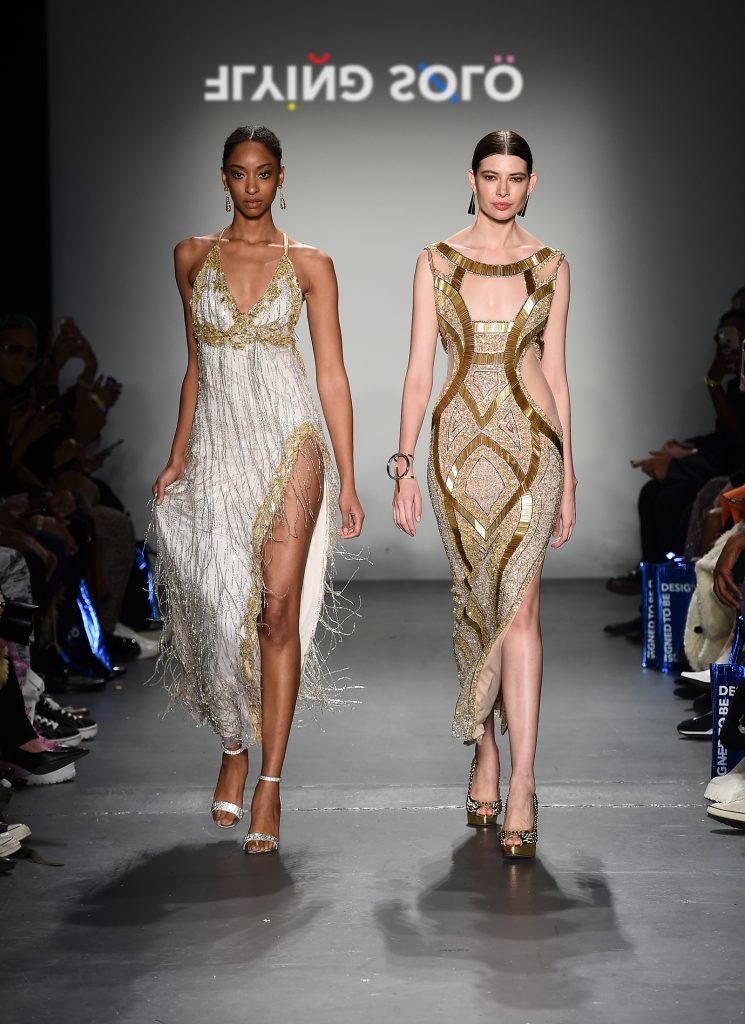 Couture: MONALIZABETH with Accessories by SSY DESIGN, HIROMI ASAI, QUOD with Bags by JULIA DAVIY, MONOSUIT, XILE HUMA, JACQUELINE CITY APPAREL with Jewelry CHRISTINE JOY STUDIO, LILYRIVERA with Jewelry by GEORGINA JEWELRY, CLAIRE ELISABETH with Jewelry by CHRISTINE JOY STUDIO, DI VENCENZO with Jewelry by CHRISTINE JOY STUDIO, MIRANDA KURTISHI, GEORGINA JEWELRY, BHAVYAA, MIASHAN with Jewelry by GEORGINA JEWELRY, SABA ASAD with Jewelry by GEORGINA JEWELRY, WONDERLAND CHILDRENSWEAR, DIVINEITY FASHION with Hats by 20SUMMERS.LOVE, LAHIVE with Jewelry by PICALI JEWELRY, LADY MAHRIAMA with Accessories byNORTON AND HODGES, NAZARENE AMICTUS with Sunglasses by SAINT OWEN, SIMONA RUSK with Jewelry by GEORGINA JEWELRY, ALEXANDRA POPESCU-YORK with Jewelry by SOLOMEINA, LENSHINA NCHAMI and Jewelry by GEORGINA JEWELRY
I hope you enjoyed this article from NYFW, and don't forget to check out last week's article on 5 Spring Fashion Trends for 2020 I'll be back to share some more fashion inspiration with you again soon! 
Julia x ( Senior Style Editor)
Instagram: @julia.rees_
Allie Mackin of ALLIE NYC is a professional designer and art director and has worked in the publishing industry in New York where she lives. She has designed magazines and books that are sold at major retailers such as WholeFoods and Amazon. She is also fashion blogger/vlogger and covers Fashion Week in both New York and Paris. In addition to her professional work and maintaining her fashion blog she is also a budding photographer and has shot Fashion Week both in front and back of house. But her favorite subject to shoot is street style.