Hi everyone and Welcome back to the European Travel Section of The Code of Style Magazine, and I'm delighted to share with you this post about "Marvellous Milan", by our Contributing Columnist for European Travel, Valerie from Maple Leopard.
Milan, the old world city you'll never want to leave! A few months ago I made my first trip abroad from the United States. All my life I've dreamed of visiting Europe. Milan Italy is the perfect place to start a European travel journey.
Every minute was filled with wonder; all the stunning sights are forever etched in my memory. I arrived in Milan by way of the main train station and that in itself was an awe inspiring experience!
Milan is truly one of the top wonders of the European world, here are my:
Top 5 Attractions for a First Time Visit to Milan

Milano Centrale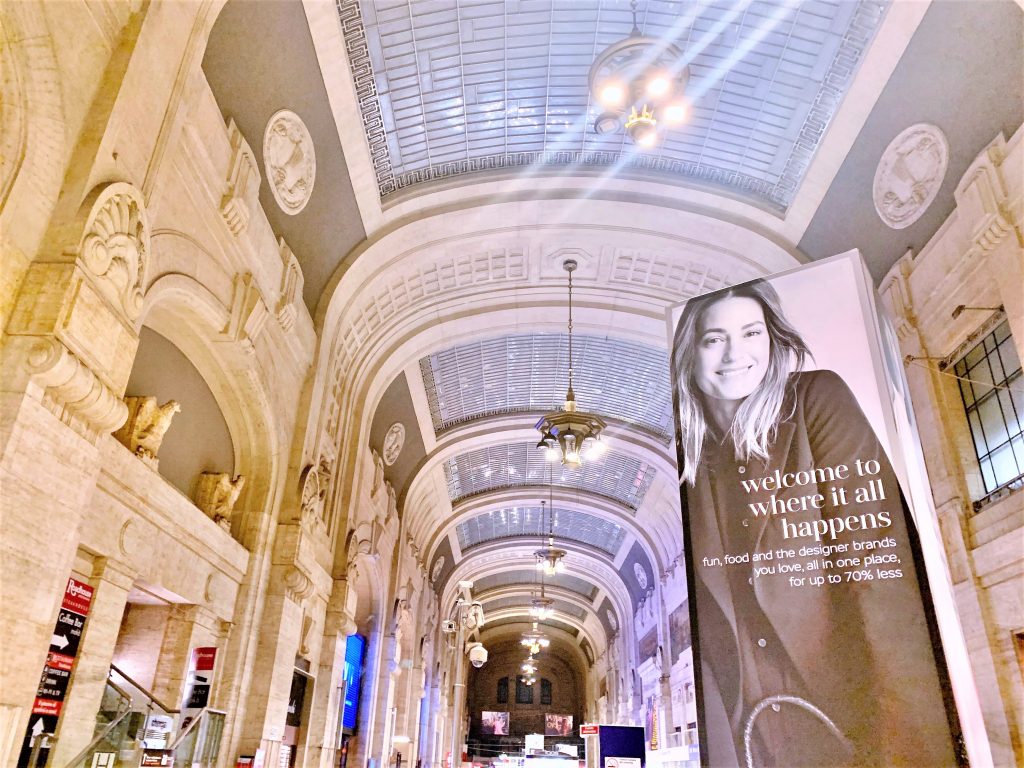 For most this may not be a "must see", but I do recommend spending some time here. Most tourists just pass through it to catch a train to another city. A traveler can spend an entire day and be entertained for hours. Beautiful boutiques, shops, restaurants and coffee shops await you!

This majestic marvel holds slips for 24 trains. The station serves around 320,000 people a day. Milano Central is the 2nd largest station in Europe, but the largest by volume. Service is available to many points in Italy, and to other countries throughout Europe. The Metro (Subway) for transit around Milan, is conveniently located at this station too. And if you are a fashionista, this is one of many malls you can shop til you drop. My hotel was a 5 min walk from the station. That proved to me a dangerous decision! The stores were calling my name every night, so it seemed!
Piazza Cordusio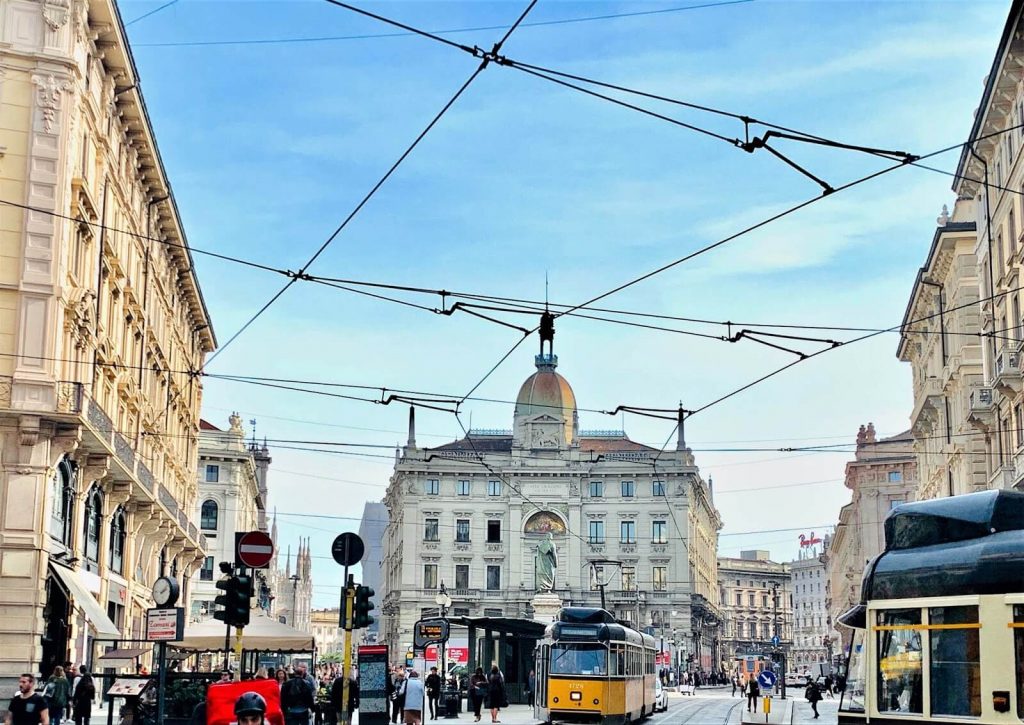 This square is the center for finance in the city of Milan. Everyone walking on the street is dressed to the nines in business apparel. Several banks and buildings date back to 900.
Fashion enthusiasts will be in their element at Piazza Cordusio. Several popular brands have stores on the square. Uniqlo opened a huge flagship store recently, and Starbucks Reserve set up shop here too.
 Postcard views are offered from every corner.  This Piazza scene was one of my favorites in Milan.  A tourist will love to watch the trams and street cars buzz back-and-forth. A few steps away from Piazza Cordusio, is the Duomo.

The Canals of Nivigli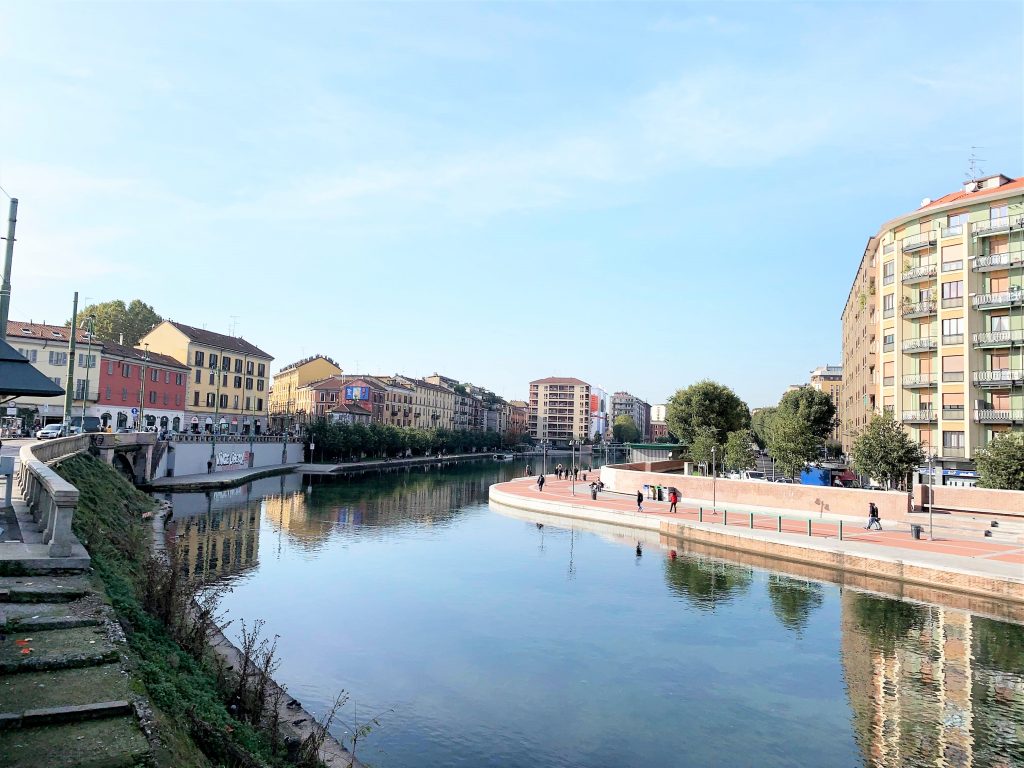 The city famous for canals in Italy is of course Venice. However, not to be missed are the canals in Milan, south of the city. This area is known as Nivigli District. In the evening, the canals come alive with nightlife, and beautiful sparkling lights illuminate the evening sky.

Daytime visits are just as lovely. I arrived in early afternoon, and like most of Milan, Nivigli was buzzing with activity. Although at noon, it was quiet and peaceful along the waterways.

This neighborhood is famous for the Naviglio Gande and Naviglio Pavese Canals. The canals were built to connect Milan with nearby lakes: to transport materials used to construct the Duomo. The canals are no longer used for shipping, but you may see a sightseeing tour float by.
The Duomo
Setting eyes on the Duomo for the first time will render one speechless. The architecture is breathtaking and unique. Equally amazing is the history behind this timeless structure. I had to pinch myself to be standing in the shadows of the Duomo: It seemed like a dream.
Guided tours are available to explore the inside of the cathedral. If you wish to explore on your own, be sure to grab skip the line tickets. I'm glad I opted for the guide: she shared many historical facts with the group.
The Duomo took 6 centuries to build and is the 2nd largest church in Italy. There are 52 pillars and 3500 statues. Although the views inside are very impressive: the rooftop views were even more stunning. Witness one of the most stunning scenes in the world from the top of the Duomo.

Monte Napoleone
This area is the seat of luxury shopping in Milano. Elegant shop windows beckon you in. Top Italian designers showcase the finest in the industry. Monte Napoleone is known as the living symbol of "Made in Italy", and attracts tourists from every part of the globe.
Via Monte Napoleone is the gateway to good taste and fabulous stylists. The shop windows are in constant change and on display for the world to see. Many fashion events take place around the city, including Milan Fashion Week in September. During these times the blocks of Monte Napoleone come alive with models from all over the world.
Milan offers many different price points for shopping. To discover the best of shopping city wide, I suggest a guided fashion tour.
I hope you enjoyed this article about Milan, and don't forget to check out last week's article on Lake Como, which is just about an hour's drive from Milan. I'll be back to share some more travel inspiration with you again soon!
Julia x ( Senior Travel Editor)
Instagram: @julia.rees_
Valerie (Maple Leopard) is a professional travel writer and author of the Maple Leopard blog. Over the past 5 years, she's been published in over 35+ websites, blogs, and magazines; and has traveled extensively in North America, and she has recently visited Europe.
#besteuropeandestinations
#europeancitybreak
#europeantravelguide
#milan
#visiteurope
#visititaly
#whattodoinmilan