Hi everyone and Welcome to the Style Section of The Code of Style Magazine., where this month I'm sharing some simple styling tips that French women use to look 10lbs slimmer.
I'm Julia Rees and I'm a French-based Style Coach and the founder and owner of the 'Style with Julia' Styling Agency, and I also provide style tips and travel inspiration on my blog 'The Velvet Runway'
I coach fabulous women, just like you, by helping them understand the clothes, styles, colours and accessories that will enhance their body shape, flatter their colouring and suit their personality and lifestyle.
I'm so glad you're here and let's start straight off this month's issue with some style tips that French women use to look 10lbs slimmer without dieting!
French women always look chic AND slim, because they don't let the size and/or the shape of their body interfere with their style.
The golden rule that all self-respecting French women adhere to is to dress for their body shape. They know what their shape is, they know what suits them and they know where to find it.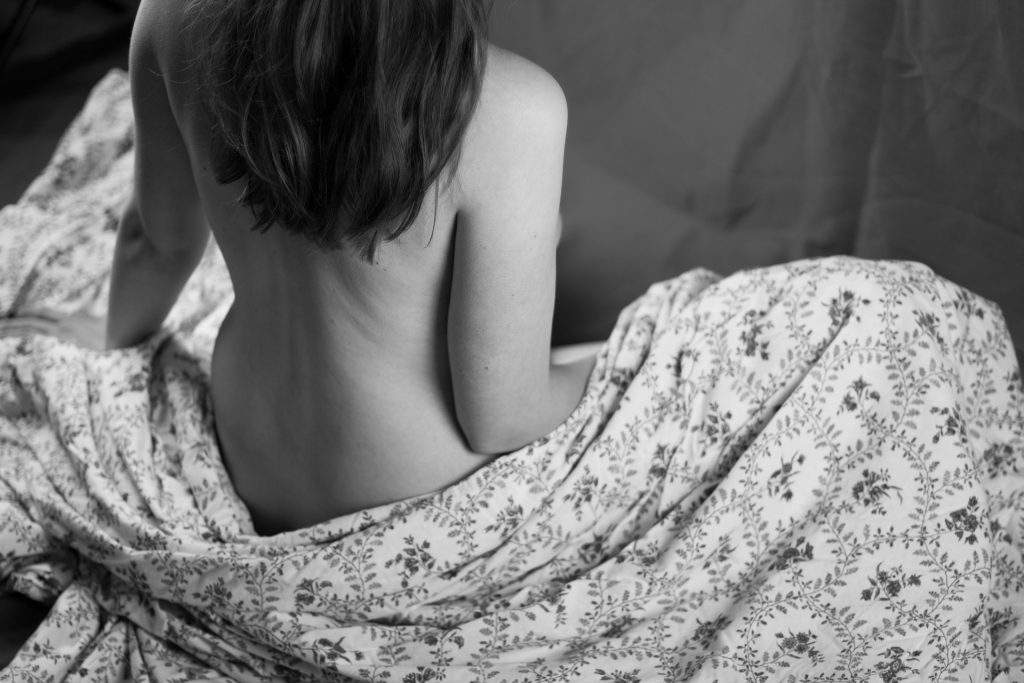 If you don't know your body shape, take
the quiz
now ,so you will always be able to follow all the tips I give in future columns.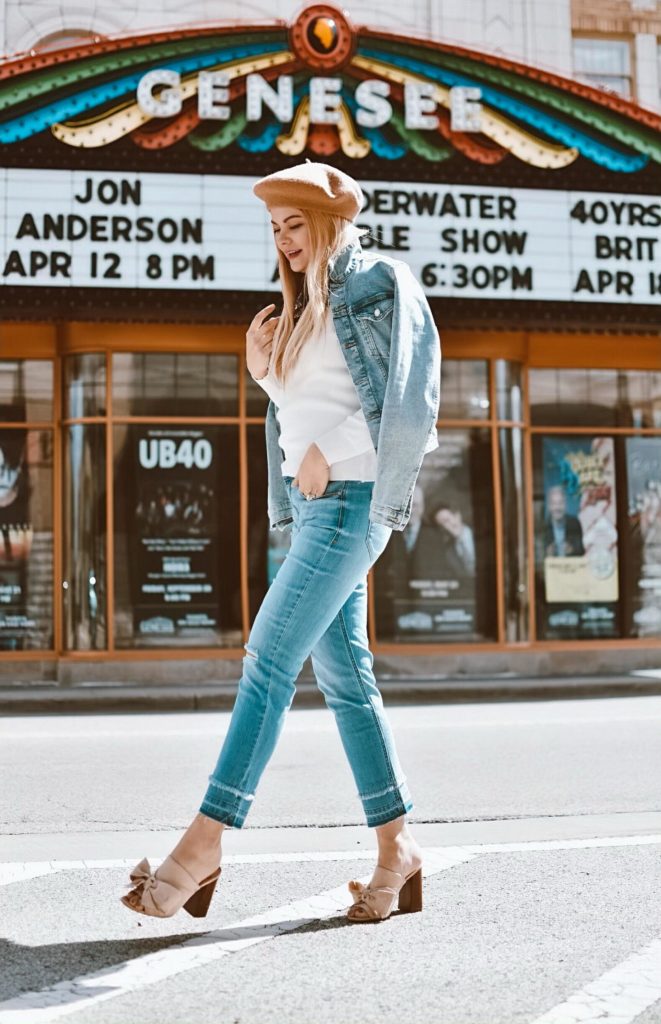 Image courtesy of blogger "@What would V wear"
Look at how this month's featured blogger, Vanessa from '@What would V Wear' rocks French Style.'
If you would like to be one of our featured bloggers for upcoming issues, contact @Julia.Rees_ by DM on Instagram.
So, here are the top style tips that French women follow to look 10lbs slimmer.
French women dress for the body shape they have NOW
By learning to love and enhance the figure you have right now, you can feel confident and stylish regardless of your body type and size.
French women know how to attract attention to their slimmest areas, by using ruffles, detailing, accessories and patterns, and they know how to divert attention away from their 'problem' areas. They dress for the body they have now ( and not the body they had when they were 18 or the body shape they hope to have when they lose 10lbs!)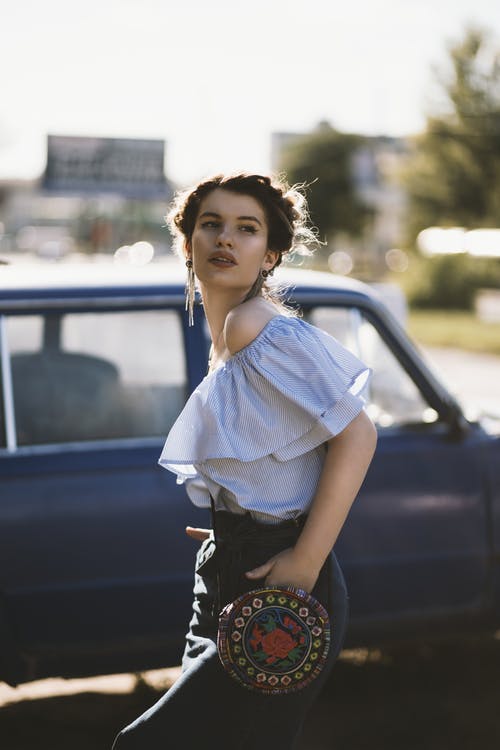 For example, if you are a pear shape then wear a top with ruffles or shoulder pads to create visual balance.
French women know the importance of buying clothes that are the exact right size
Avoid clothes that are too tight (which will just showcase any lumps and bumps) and similarly avoid clothes that are too big (as shapeless baggy clothes will just make you look bigger!)
French women don't tend to follow fashion trends as they know what suits them and they stick to this.
They know how to use 'classics' to their advantage and they never underestimate the importance of the perfect fabric and the perfect cut.
A simple French 'uniform' is a white shirt and jeans, which can easily transform from day to night with a few accessories.
The Candi Shirt by Maje (above) is a perfect long sleeved shirt that is suitable for any occasion. The lace details on the front, shoulders and sleeves add a twist to the classic style and the asymmetric hem is very flattering.
The Lizoni wrap top by Maje is perfect for transitioning from day to night, with just a simple change of accessories. Whilst French women stick to the classics, there's always that little twist that immediately transforms them into style icons. Such is the case with this wrap top, as the simplicity of the cut is offset by the beautiful embroidered lace and completed with a contrasting grosgrain belt at the waist. The crossover V-neck is very flattering and the all-over sheer lacy details make this wrap top extra special.
The Leana top by Maje has lace inserts at the top and shoulders, and a simple teardrop opening at the back.
Pair it with jeans or tailored pants for a chic everyday look.
They understand the effect of stripes, and how they can create an optical illusion to make you appear taller and slimmer.
Horizontal stripes make you look bigger as they attract the eye from left to right to follow the lines and thus give the impression that something is wider/larger.
If you have a large bust and you want to wear horizontal stripes, add an open jacket or cardigan, a long necklace or a scarf to create a vertical line and 'break the area up'.
If you are an apple shape, you will want to avoid horizontal stripes altogether, a pear shape should wear horizontal stripes on the top half of the body and conversely an inverted triangle should only wear horizontal stripes on the bottom half of the body.
If you are an hourglass or a rectangle, you should be careful not to distort the perfect alignment of your shoulders and hips, so if you only wear horizontal stripes on one half of your body, balance this out with ruffles, thicker materials or other details on the other half.
Unlike horizontal stripes, vertical stripes lengthen the body and give the impression of being thinner, so make sure to include vertical striped shirts, skirts and pants in your closet.
You can also create vertical lines with the cut of your clothing as long, open jackets also draw the eye downward to create the impression of a taller, thinner you.
Diagonal stripes deceive the eye and are a great way to create the illusion of curves.
This dress from Sandro is a perfect mix of vertical and diagonal stripes for a chic and slimming look. It has a concealed side zip and a flared, asymmetric hem, which is a very flattering cut for most body shapes. The cutout front with the knotted tie adds the little detail that makes this dress stand out from the crowd!Pair it with sneakers for everyday casual chic or dress it up with heels for a night out!

They know which colours are slimming, (as well as which colours illuminate their face and make them sparkle.)
If you want to give the impression of being thinner or leaner, choose dark colours, – such as black, navy blue, plum….. and avoid light colours.
Combining dark colours such as navy and black, or burgundy and black is also visually slimming, as well as very chic, as you can see in this example from French brand 'Comptoir des Cotonniers'.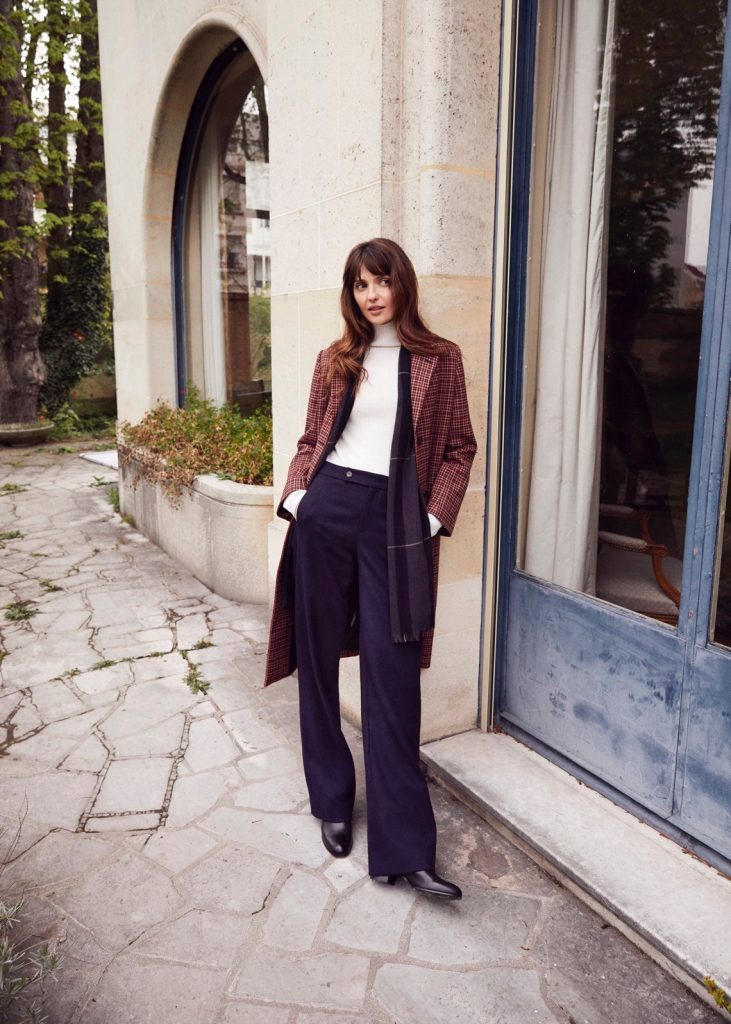 This outfit from French brand @Comptoir des Cotonniers combines dark high-waisted trousers for a slim waist, a long open coat (with a dark lining) to elongate the body by creating a vertical line and dark shoes in the same colour as the trousers for longer legs.
They know that outfits that stick to just one color palette (monochrome) are the most flattering for all body shapes.
Choose tops and bottoms of the same color to create an uninterrupted vertical line, making you look thinner and taller. The monochrome look is especially recommended for the Apple body shape and for 'petite' ladies.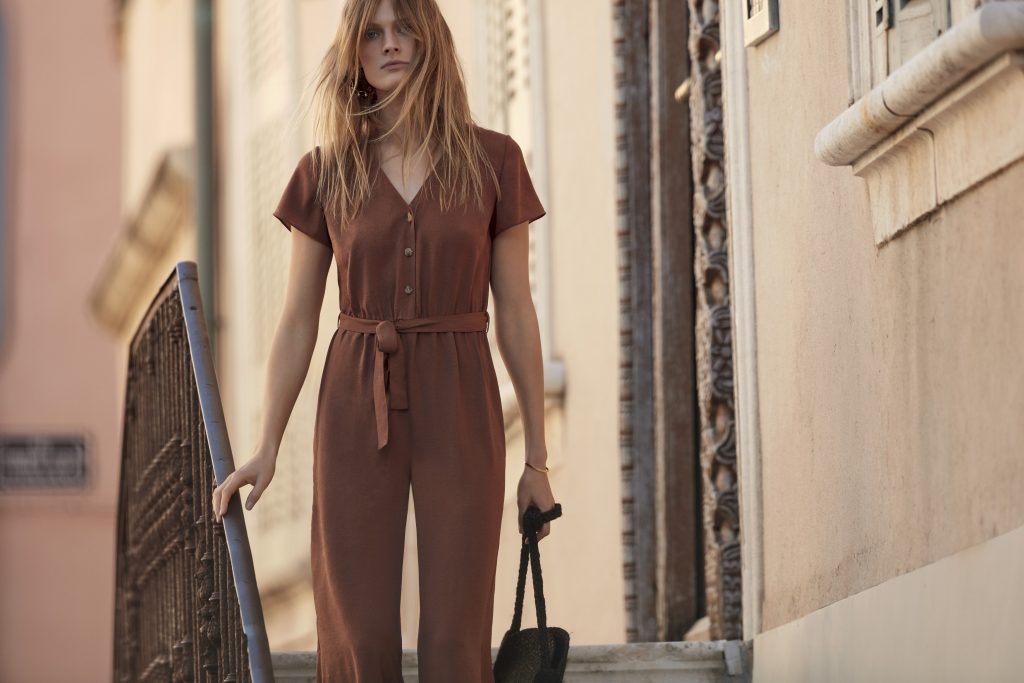 The 'Jane' belted jumpsuit from French brand Etam (@Etam) is perfect for transitioning to Autumn, as the khaki color is a perfect neutral color for all year round.Neutral colors are very versatile and are great building blocks for your wardrobe. Layer with a long cardigan or a statement jacket and swap your sandals/shoes for boots as we head into the cooler months.
If you choose 2 colors of contrasting value, make sure to wear the darker color on the area you want to appear slimmer. For example, if you are a pear shape, you should wear the lighter color on the top half and the darker color on the bottom, whereas if you are an inverted triangle then favour the dark color for tops.
Similarly, you should be wary of your choice of material- some fabrics, such as heavy wool, tweed and padded fabrics will add inches to your body. Wear bulky materials such as corduroy, leather, suede, velvet, brocade, angora, taffeta, and tweed, as well as satin, metallics and shiny materials, only on areas of your body that you want to appear larger.
They understand how to use accessoires
Belted looks are an easy option to transform your look and create a waist. Make sure to wear the belt at your natural waist (the thinnest part of your body) and also opt for styles that include belts or patterns that draw in your eye at the waist.

This Sandro belted cardi-coat is a 'must-have' addition to your Fall wardrobe. The stylish cardi is trimmed with heat bonded studs to give an unusual twist to a classic black cardigan. The belt cinches in the waist to make you instantly look 10lbs slimmer.
These Sandro high waisted pants can also work well, as they will cinch the waist and elongate the legs. To maximise the effect, wear heels in the same color as the pants. They incorporate a narrow waist belt with a stirrup buckle. They work well for most body types, but if you are a pear shape then the slanted pockets may make your hips look broader.
Bold accessories, such as large tote bags, will make you seem smaller by comparison.
Bags by Le Luco Paris (Images courtesy of MVGD Consulting & Communication )
Le Luco is a Parisian brand founded by Hélène Carrouée and Nathalie Colas, a new brand of bags perfectly calibrated to work with the body, that can be easily carried without weighing you down. They are made from the softest materials and masterfully combine simplicity, refinement and practicality.
If Hélène and Nathalie were gardens, they would be complementary and balanced, just like the 'Jardin du Luxembourg', in the 6ème district of Paris known affectionately as 'Le Luco' by the Parisians for whom it is an oasis of calm, a source of inspiration and a cultural showpiece.
Choosing a bag by @Le Luco Paris, means placing equal value on the body, heart and mind. It means buying – or gifting – a bag that can be worn with ease, love and plenty of French style. A bag that will get even better with age.
I hope you enjoyed this article on 'how to look 10lbs slimmer' and I can't wait to share some more tips from France with you next month! In the meantime, you can fill inspiration on my blog and follow along on Instagram. Don't forget to check out all the other fabulous posts by the other Editors and follow The Code of Style on Instagram.
Julia x
#French-style
#style-tips
#the-code-of-style
dress-for-your-body-shape
drop-a-dress-size
fashion
look-10lbs-slimmer
style-inspiration