Hi everyone and Welcome to the European Travel Section of The Code of Style Magazine.
I'm Julia Rees and I'm the founder and owner of the Style and Travel blog 'The Velvet Runway'
I have always been passionate about travel and spend much of my free time travelling or planning my next weekend trip/ holiday. I believe that travel is the one expense that makes you richer and that learning about other cultures and lifestyles is a truly rewarding and enlightening experience.
I'm excited to share my travel inspiration and advice with you to help you plan your own European adventures. Today is all about Spain's stunning capital city, Madrid.
With beautiful parks, stunning architecture, lovely weather (mostly), world class museums (including El Prado), lots of culture, tapas and great food, Madrid is a must-visit destination.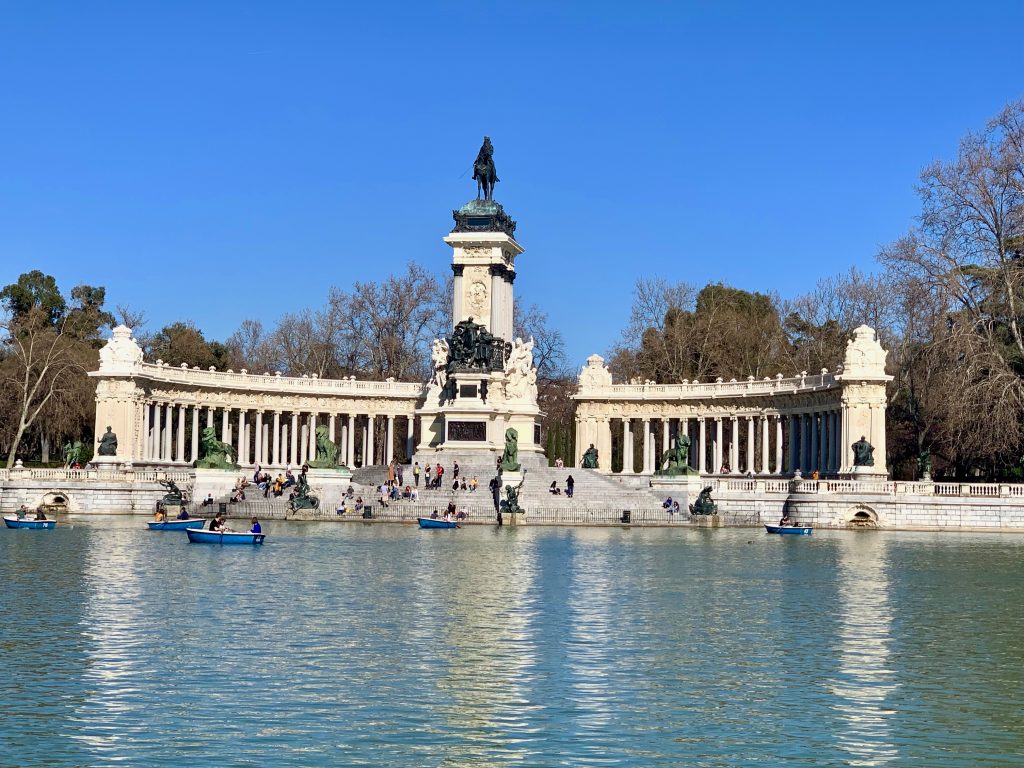 It's a city where the old and new intertwine, and you can walk from narrow, cobbled lanes in the old district to the main modern shopping street, the Gran Via in a few minutes.

It's Spain's largest city and its capital and is one of the top travel destinations in Europe, but what are the key attractions? These are my top fifteen things to do on a Madrid City break
Take a bus tour round the City
A good way to get your bearings and see which sites you want to visit is to start with a 'hop-on hop-off' bus tour, which you can book here. You can buy one and two day passes so it's also a great way to get around.
Visit the Royal Palace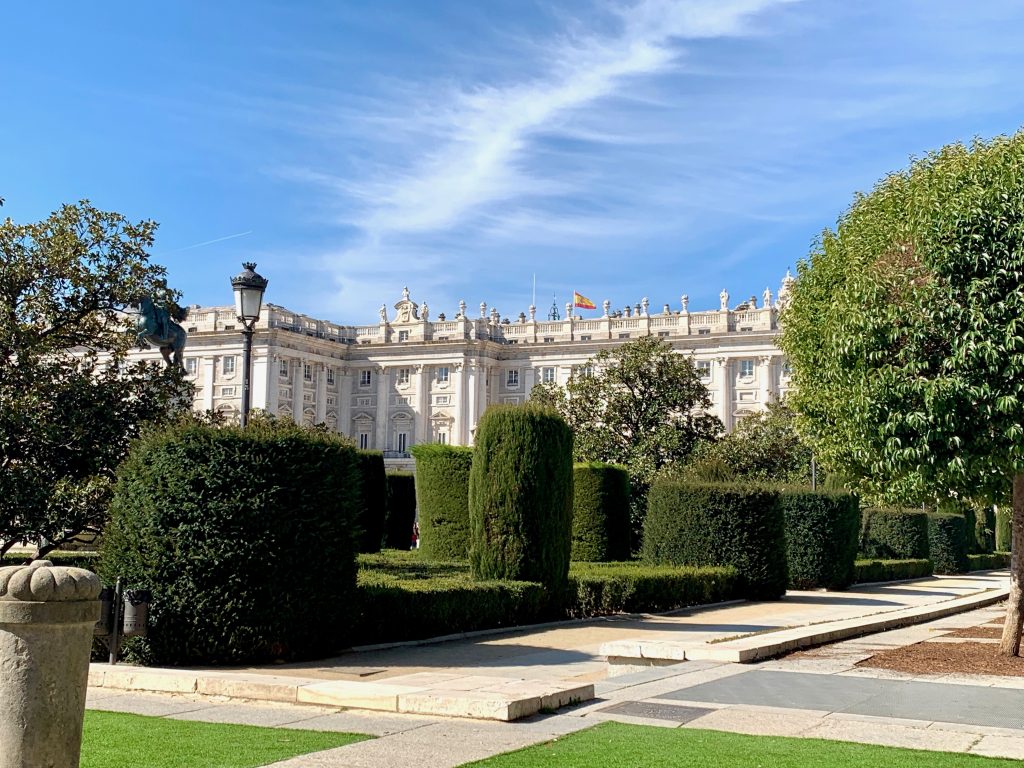 El Palacio Real is Madrid's largest building and the official residence for the Royal family, but these days they only use it for state ceremonies. The rest of the time it's open to the public. It was built during the 18th and 19th centuries on the grounds of the Alcázar, which was burnt to the ground in 1794. You can buy tickets here.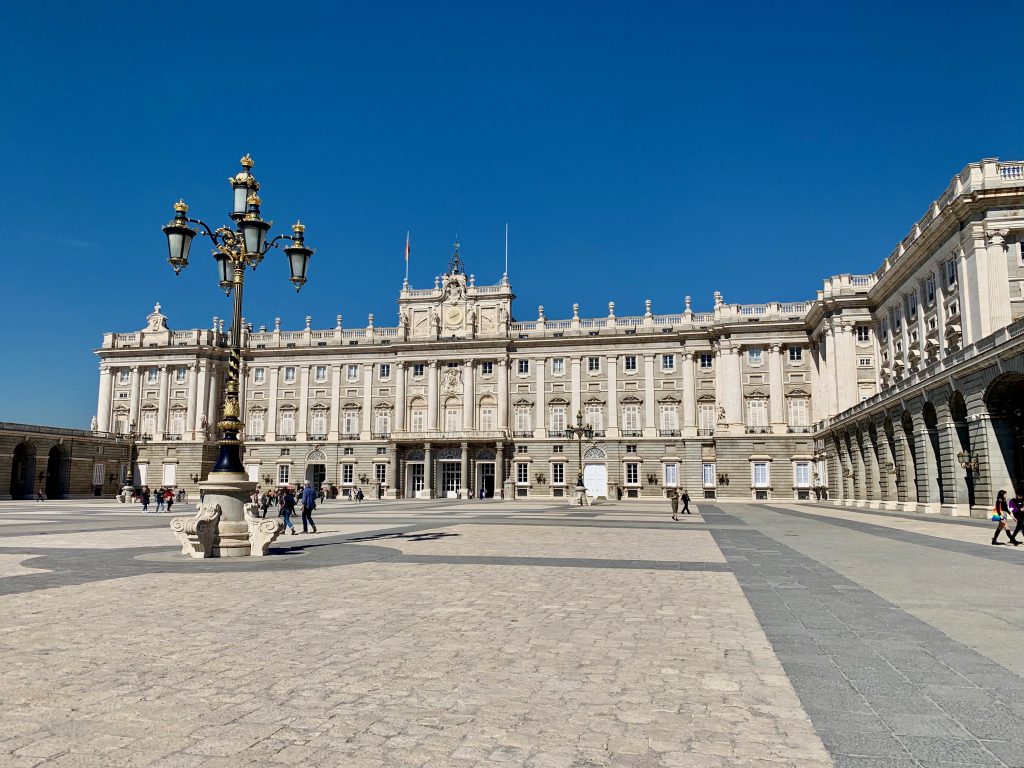 Start by taking a walk around the courtyard and looking at the view across the countryside, and you then have access to the Palace itself where you can choose between a guided tour or a standard ticket, where you can just wander around at your own pace.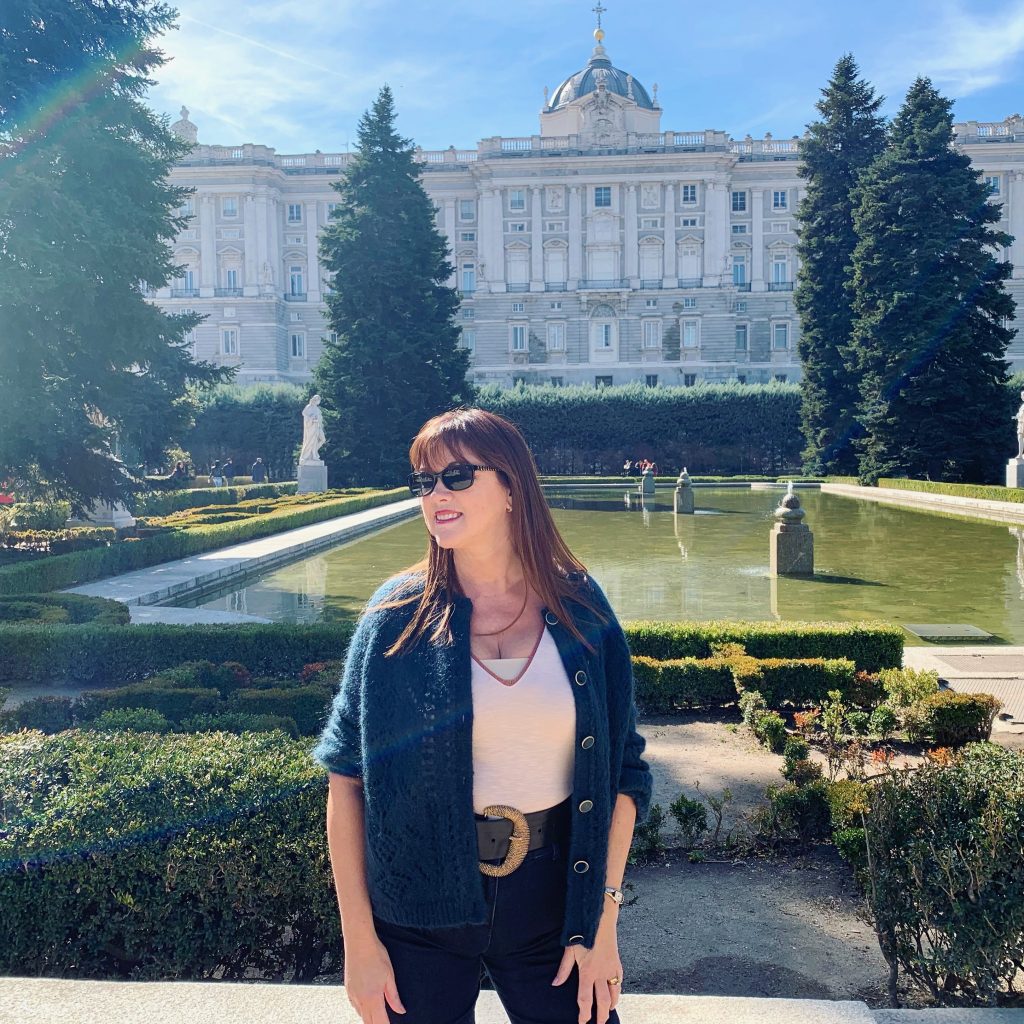 Don't forget to visit the Royal Armoury , which has a separate entrance in the courtyard, and includes an amazing collection of armour – some of which was actually worn by Charles V. You can also see children's' armour and even armour for his dog!
Unwind in the Sabatini Gardens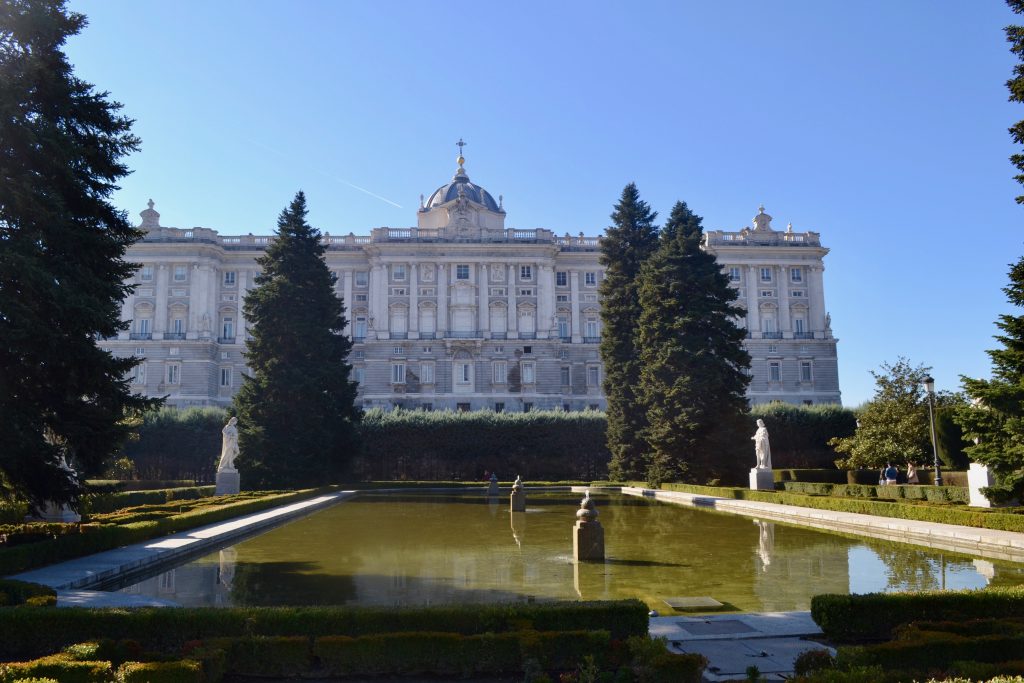 Just next to the Palace, you can relax in the Sabatini Gardens. These gardens (Jardines de Sabatini) are part of the Royal Palace and were opened to the public by King Juan Carlos I in 1978.
They honor the name of Francesco Sabatini (1722–1797), an Italian architect of the 18th century who designed, among other works at the palace, the royal stables, previously located at this site.
Visit the cathedral that took a hundred years to build!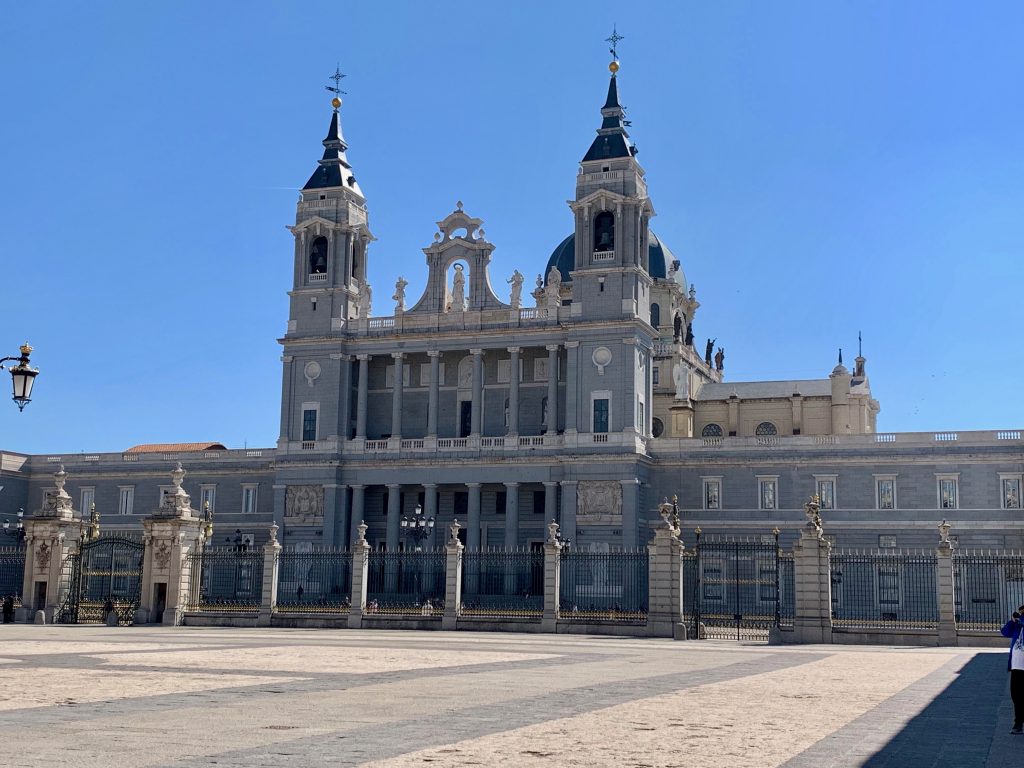 While you are in this area, you should definitely visit the Cathedral. (Catedral de la Almudena).
The cathedral was only completed in 1993 after a hundred years of building work! The first stone was laid in 1883 but construction really got underway in 1885. Progress was initially slow due to insufficient funding and the death of the original architect. Construction was stopped entirely during the Spanish Civil War and only re-started in 1950 with a new architect.
The cloister area was finally completed in 1955 and the facade in 1960, but the project wasn't considered finished until 1993 when the cathedral was finally consecrated by Pope John Paul II.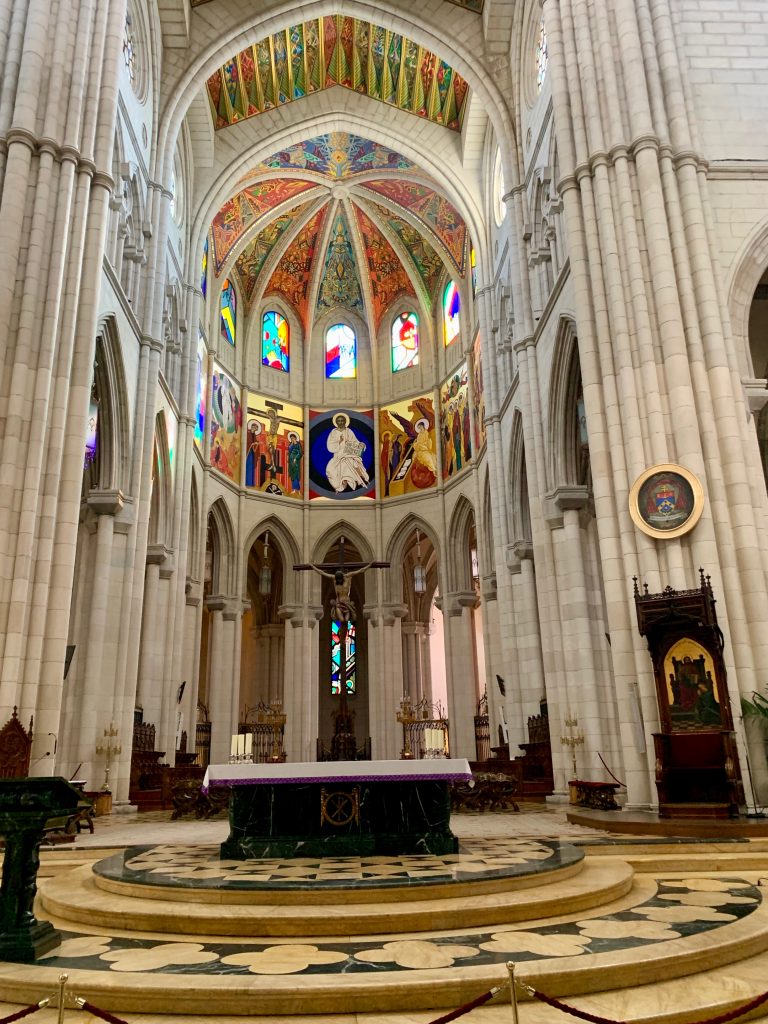 As you can see from the picture, the interior is a stunning combination of modern and traditional architecture and design.
The cathedral was most recently the site of the wedding of King Felipe VI (who was prince at the time) to Letizia Ortiz Rocasolano on May 22, 2004.
Watch a play or the ballet at the Royal Theatre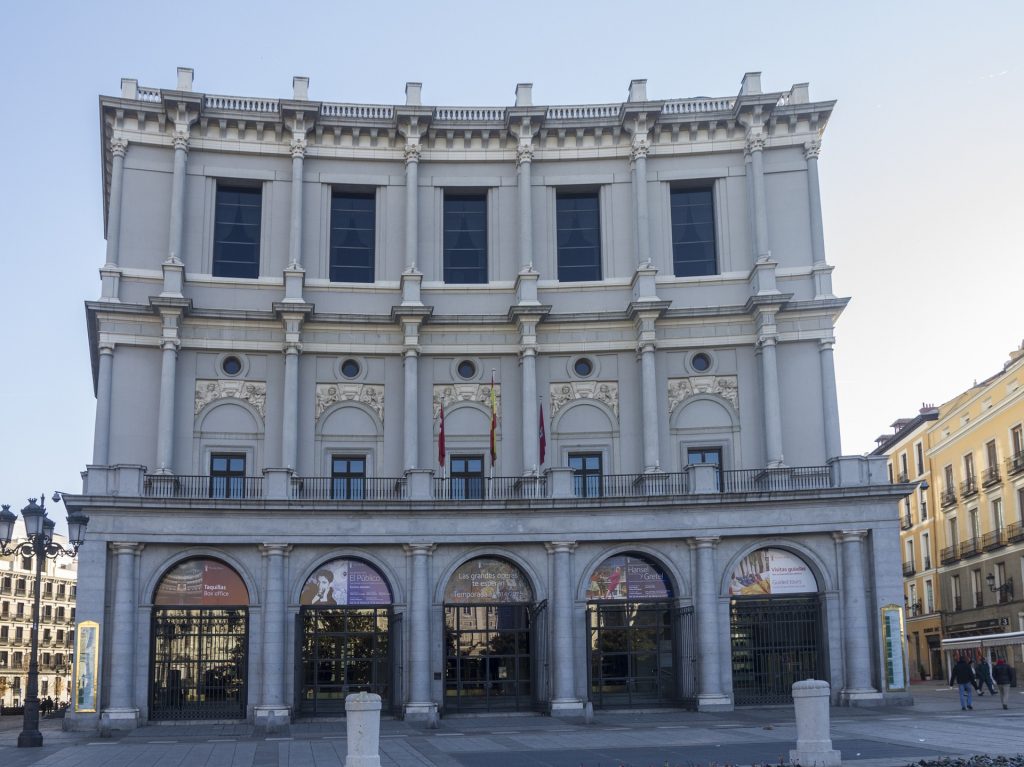 Just opposite the Palace, you can see the Royal Theatre (Teatro Real), where you can take a guided tour or attend an opera/ the ballet or a play.
You can also take a tour, accompanied by an audio-guide, where you can explore the various rooms of the theatre, and enjoy the views from the terrace.
Discover Spain's only Eygyptian temple, the temple of Debod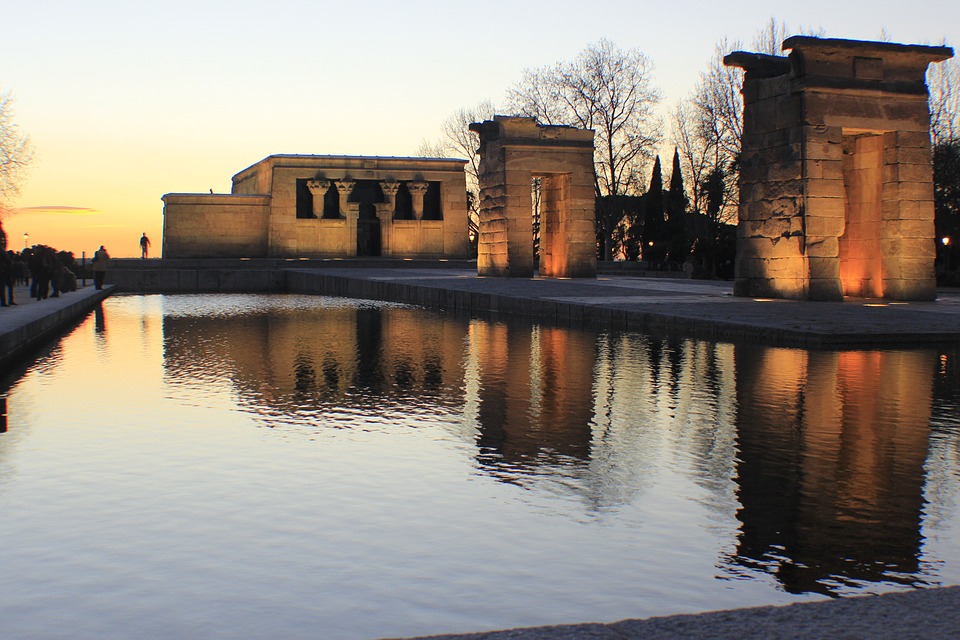 The temple of Debod, an Egyptian temple (from the 2nd century BC), is now in the middle of Madrid, in the Cuartel de la Montaña Park.
It was donated to Spain by the Egyptian government to save it from floods following the construction of the great Aswan Dam.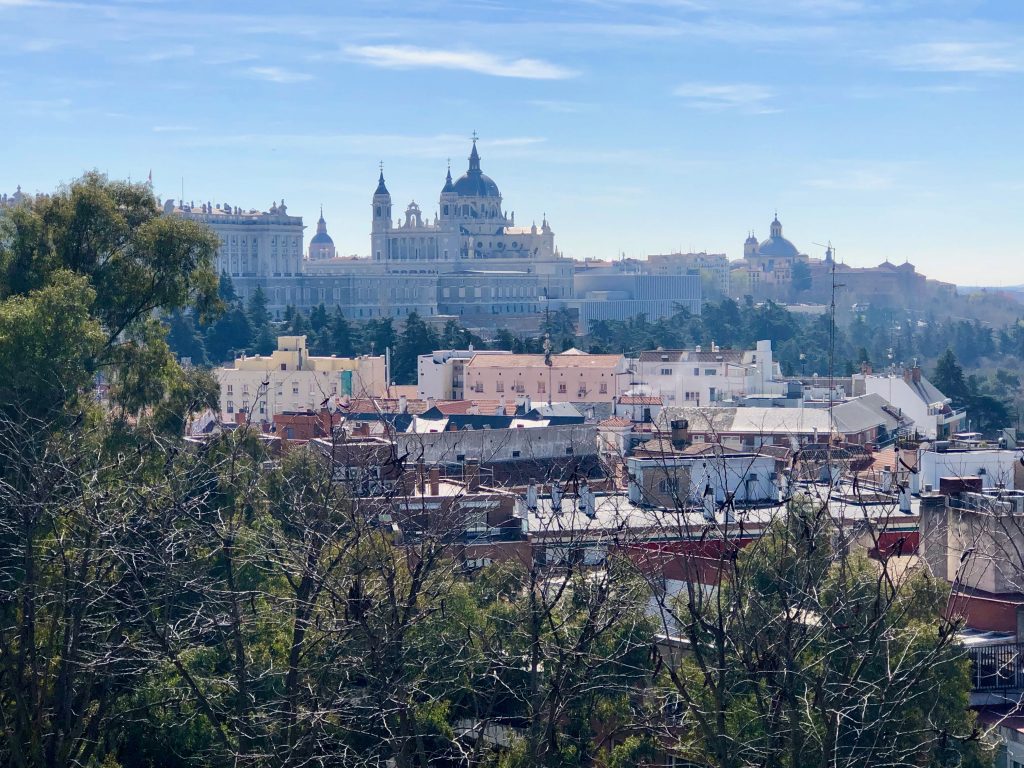 The views from its hilltop location are spectacular, and it's a popular location for watching the sunset.
Watch some street artists at the Puerta del Sol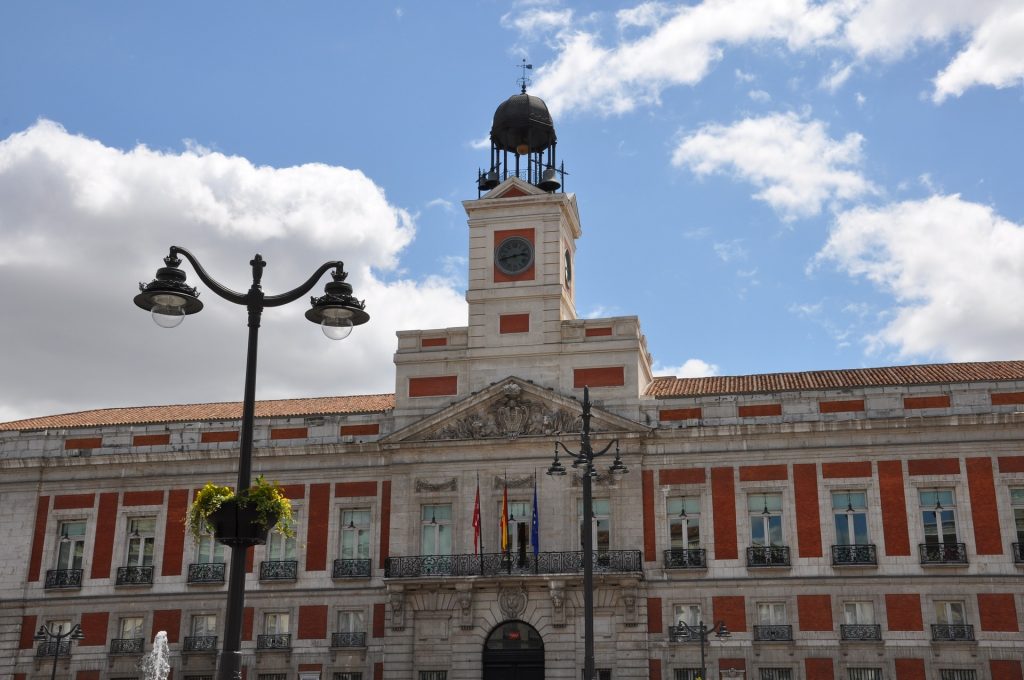 Puerta del Sol is definitely worth checking out before heading to the other different monuments as it's the most famous central square in Madrid. It is pedestrian friendly and you will see lots of street artists there. There are also lots of shopping streets and restaurants in the vicinity.
It is also the place where the countdown to midnight takes place at New Year.
Grab some chocolate and churros at the Chocolateria San Gines

Close to Puerta del Sol, you can find the 'Chocolateria San Gines', a 100 year old café, known for its chocolate and churros (and it's open 24 hours a day!)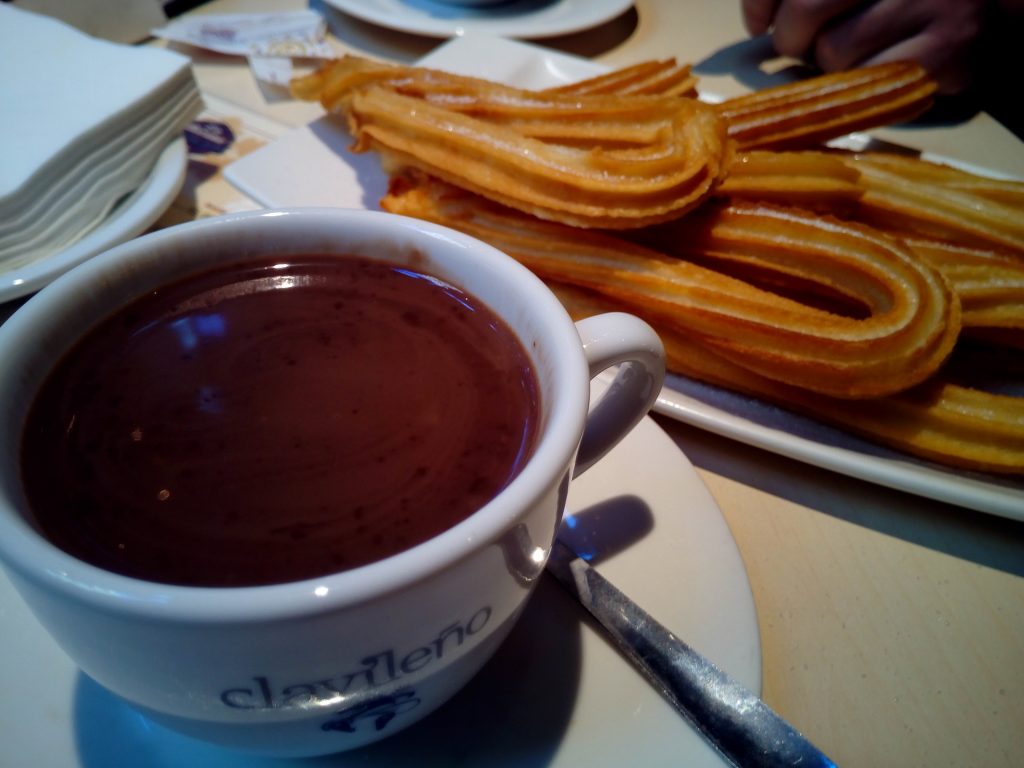 Admire some masterpieces on the 'Art Walk'
Head down the Carrera de S. Jerónimo towards the Reina Victoria Theatre and continue down to the Neptune Statue and the "Art Walk", where you will find the 'Thyssen-Bornemisza' museum which contains a unique art collection from the 13th to the late 20th centuries, including works by Raphael, Titian, Rubens, Rembrandt, Caravaggio, Manet, Renoir, Cézanne, Picasso, and Van Gogh.
From here, it's just a 5 minute walk to Madrid's most famous museum, El Prado, and I would definitely recommend buying tickets in advance for this, either from El Prado or you can buy 'Art Walk' tickets here , with entrance to Museo del Prado + Museo Reina Sofía + Museo Thyssen).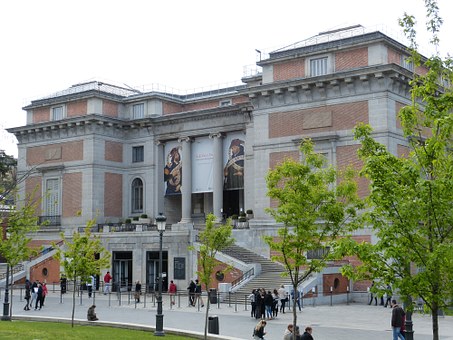 With its vast collection of paintings and sculptures, it is worth spending a little time planning your visit in advance, and the Prado site gives you some suggestions according to the amount of time you have to visit.
Some of the most famous paintings are:
Diego Velazquez. Las Meninas (The Maids of Honor).
Hieronymous Bosch. Garden of Earthly Delights.
Albrecht Durer. Self Portrait 1498.
Francisco Goya. The Third of May
Franciso Goya. The Naked Maja
El Greco. Nobleman with his Hand on his Chest.
Soak up the atmosphere and grab a coffee or a snack in the Plaza Mayor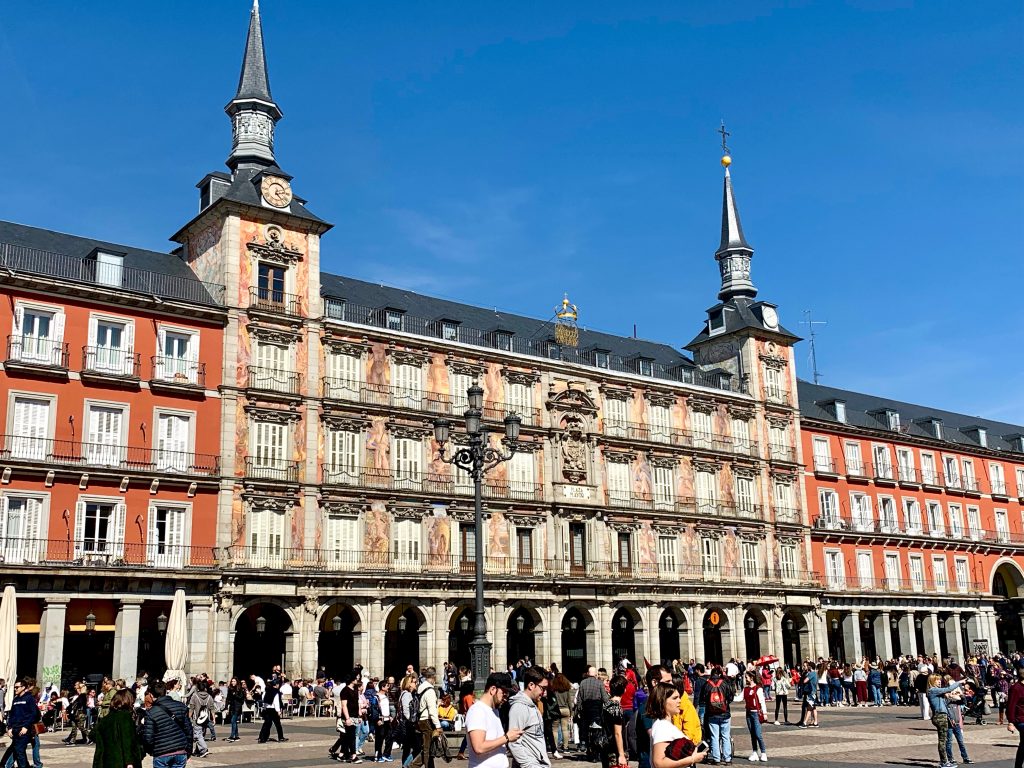 Another of Madrid's musts is a visit to the Plaza Mayor, Madrid's vibrant main square, with a large choice of cafés and bars. Despite it's tourist location, you can get a good value breakfast for 5 to 6€, and soak up some sunshine and the Spanish atmosphere. (It's also a good choice for Tapas).
Stroll along the Gran Via
From Plaza Mayor you could head up to the 'Gran Via', one of Madrid's busiest and most famous tourist streets! Take time to walk down and admire the buildings, pop into a few shops and/or cafés, and soak up the atmosphere.
This kilometre-long street is a big boulevard packed full all of the kinds of places that tourists love – such as stylish hotels, shops, rooftop bars, and at the end of the Gran Via you will come to the Bank of Spain.
Pick up a bargain at El Rastro flea market
If you are looking for bargains, then you might want to check out Madrid's oldest street market, El Rastro, which is held every Sunday from 9am, in C/Ribera de Cortidores, in the Embajadores neighbourhood.
This lively flea market has a wide range of both new and second hand articles from clothes, jewellery, records, prints, and various souvenirs.
It gets very busy, especially around midday, but it's worth checking out, and don't forget to haggle over the price.
Relax in El Retiro Park
This vast park, located in the heart of Madrid, used to belong to the Spanish monarchy, but it became a public park in the late 19th century. It's a great place to relax in one of the open-air cafés, listen to music, read, take a boat ride or visit one of the frequent exhibitions. If you're feeling energetic, its 350 acres should give you plenty of routes for a jog!
It's best known for its focal point, the giant lake, with the famous monument to King Alfonso XII; and where you can take out a rowing boat or relax in one of the neighbouring cafes.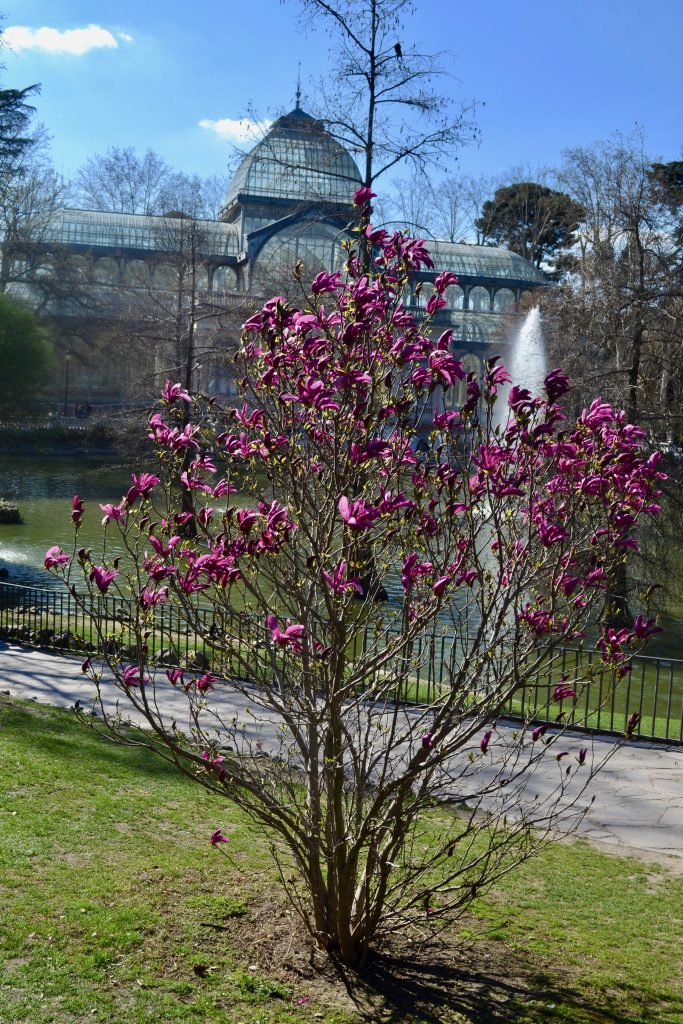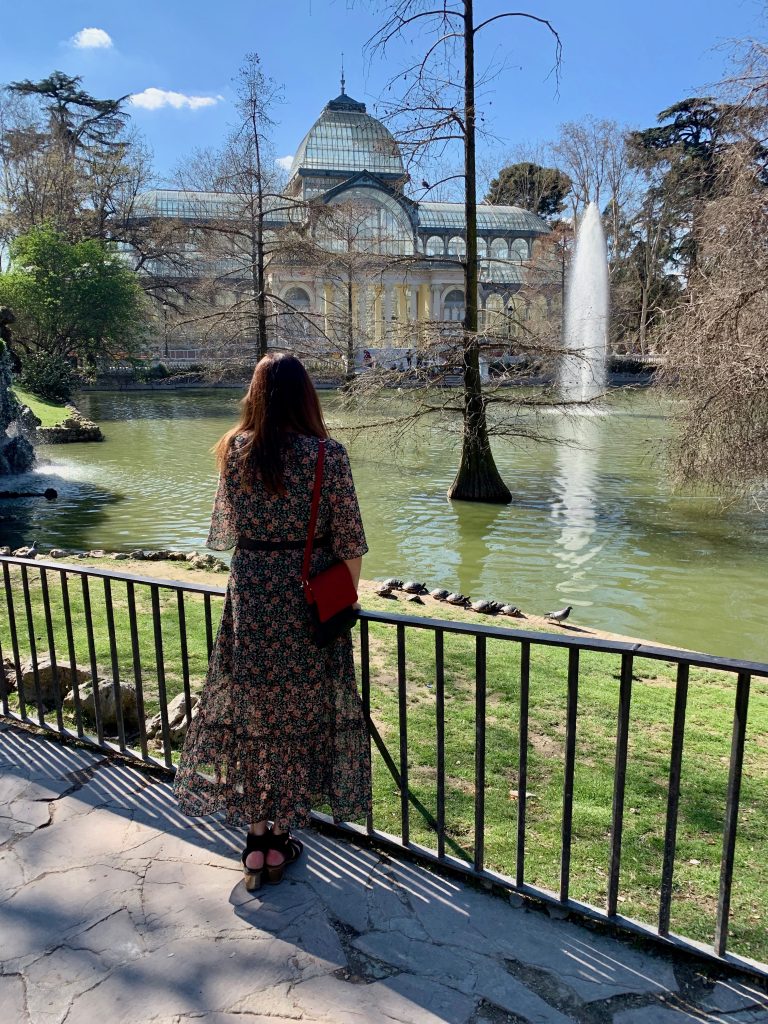 One of the most iconic buildings in the park is the Crystal Palace, which as its name suggests, is made almost entirely of glass. It hosts periodic art exhibitions and is in a beautiful setting on a small lake.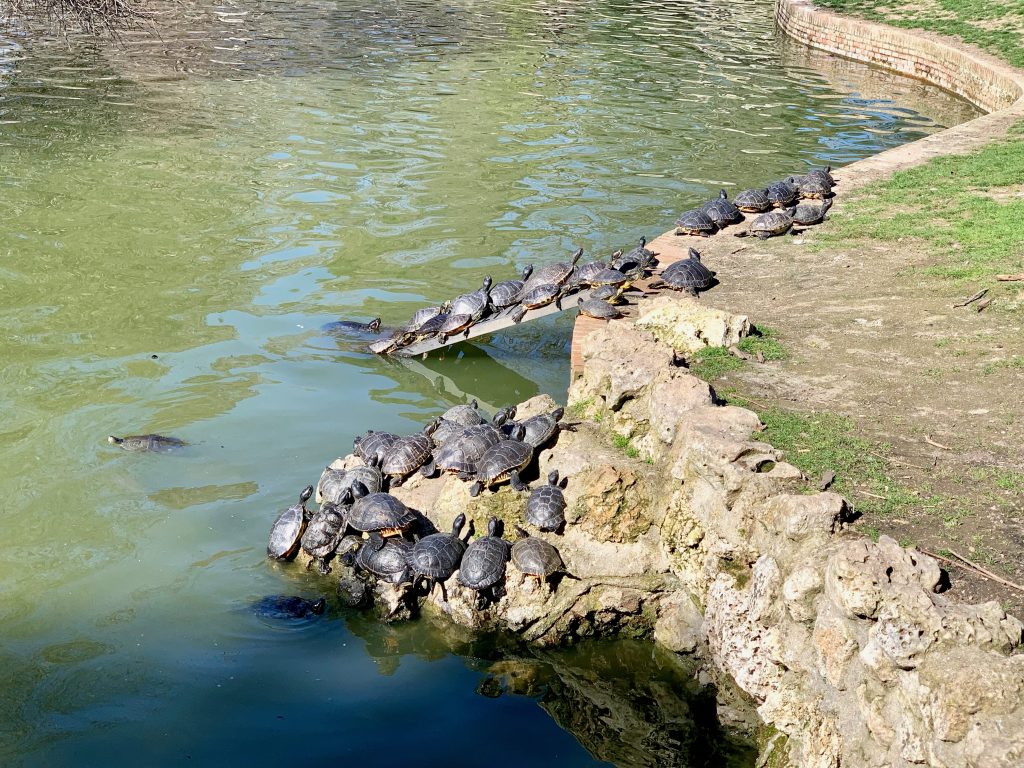 It's also home to various wildlife, including these turtles who seemed to enjoy basking in the sun!
Also worth visiting in El Retiro Park are the walk of Statues (a promenade of statues of different monarchs who ruled Spain, the Cecilio Rodriguez gardens (with a lot of peacocks) and the rose garden.

Enjoy a Flamenco show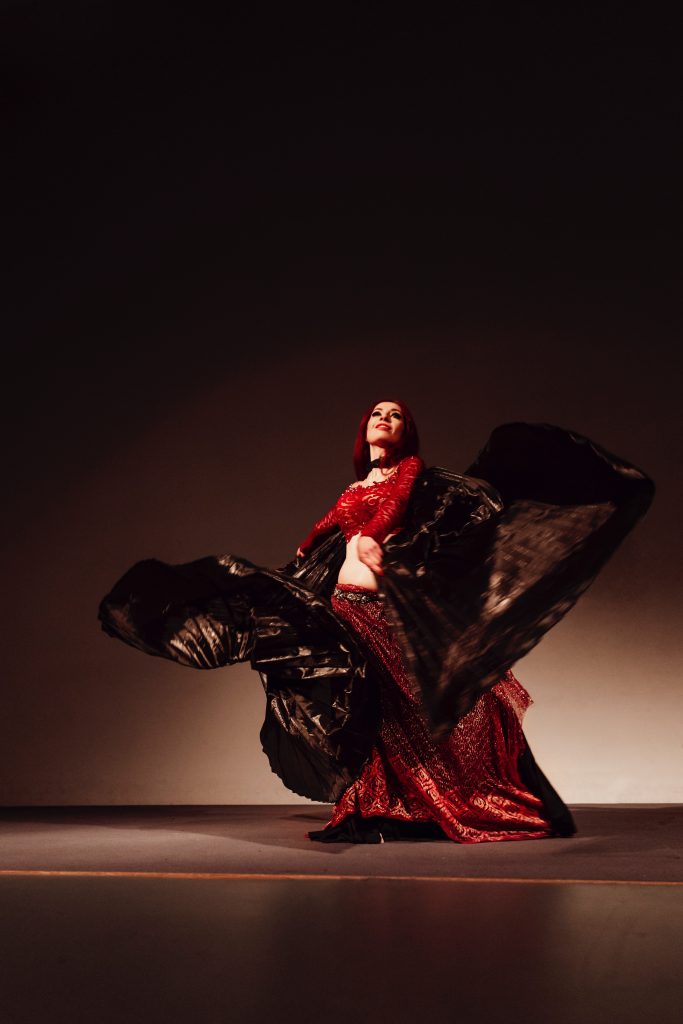 A visit to Madrid wouldn't be complete without a visit to a Flamenco show. Flamenco is Spain's most famous style of dance and music, and it is known the world over for its energy, passion, colour and beauty.
Even though it is more widespread in the South of Spain, there are many places in Madrid where you can catch a performance and learn a little about local culture and folklore.
You can also take advantage of a traditional dinner while you are watching!
Make time for some tapas!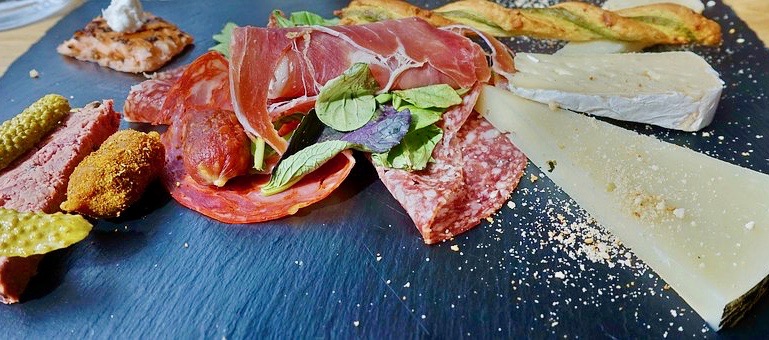 There are so many tapas bars in Madrid so clearly in three days I didn't have time to test them all, despite my best efforts!
However, I loved the area around San Miguel market and Plaza Mayor, and these are a few of my recommendations.
Plaza Mayor
There are so many tapas bars in this lively square that it would be impossible to single out one.
However, I was pleasantly surprised by the reasonable prices and it's a great place to sit and watch the world go by!
The San Miguel Market

Just a stone's throw from Plaza Mayor is the famous Mercado de San Miguel, which is a very popular food market and tapas bar. Get there early if you want to find a seat as it's very popular with the locals and with tapas priced at 1€, who can blame them?
Mirador del Arco de Cuchilleros (Cava de San Miguel)
Just along from the market the lively Cava de San Miguel has a wide range of tapas bars, including this one.
The outdoor seating is cozy and comfortable and the tapas was delicious, especially the mushrooms stuffed with bacon.
El Pimiento Verde (Calle del Conde de Miranda)
This basque restaurant has an outdoor terrace, overlooking the San Miguel market and serves both tapas and main meals. The speciality is artichokes!
Mesón del Champiñón (Cava de San Miguel
Also, in the same area, this bar offers all kinds of tapas… but the real reason to come here is in the name. 'Mesón del Champiñón' translates to "Tavern of the Mushroom,", and their claim to fame is, of course, their mushroom tapas! If you love mushrooms then this is the place for you!
Obviously, this is not an exhaustive guide to Madrid, but I hope it has given you a few ideas as the basis for planning a trip to this beautiful European Capital. if you want some more inspiration have a look at the guide below.
I hope you enjoyed this article all about Spain's stunning capital, Madrid and I can't wait to share some more travel inspiration with you next month! In the meantime, you can fill inspiration on my blog and follow along on Instagram. Don't forget to check out all the other fabulous posts by the other Editors and follow The Code of Style on Instagram.
Julia x

europeantravel
madrid
mustdothingsinmadrid
travel
travelineurope
travelinspiration
whattodoinmadrid