Hi everyone and Welcome back to the European Travel Section of The Code of Style Magazine, and I'm delighted to share with you this post about one of France's best kept secrets, the Lot et Garonne, by Contributing Editor for European Travel, Renata Huster.
The department of the Lot-et-Garonne, in the southwest of France, in the region of Nouvelle-Aquitaine; is fondly known as the gastronomic belt of France and, has been described as " The France that you always hoped existed but could never quite find ."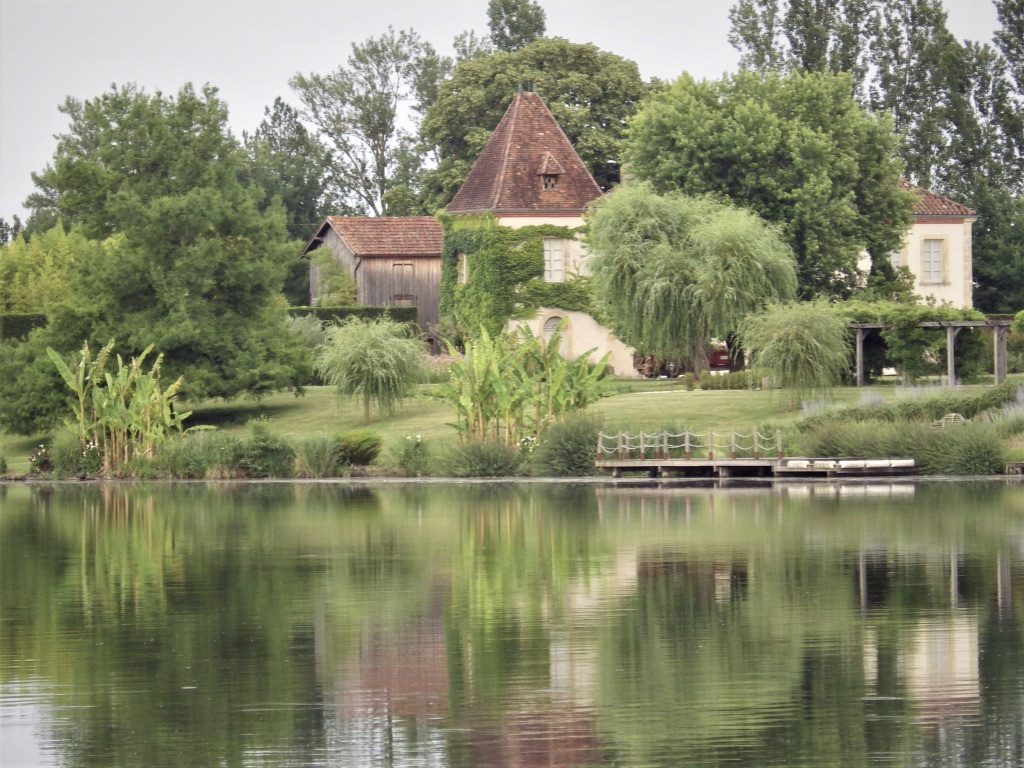 A lush beauty adorns La France profonde ("Deep France") and the Lot-et-Garonne is no exception. A shock of butter-yellow, a single lone daffodil in an endless green meadow or one or two poppies dressed in imperial red, wave softly among the winter wheat makes a stunning capture! It's photographer's paradise!
The Lot-et-Garonne is named after two rivers, the Lot and the Garonne. It's a lesser-known area and, I find that particularly appealing. Its French soul is firmly intact! Unspoiled by gimmicky tourist shops selling 'kitschy' souvenirs or junk food eateries.
It offers a nonintrusive, tranquil way of life. Good old fashioned family values and childhood friendships are cherished and celebrated, around old rustic tables burdened with delicious fare, from the family veggie patch or bought from the local village market and washed down with distinctively good wine, from the renowned vineyards of Duras!
My favorite village in the Lot-et-Garonne is called Fongrave. It is a charmingly quaint little 12th-century hamlet with a pretty square overlooking the river Lot.
Clouds of petunias and geraniums hang from the sills of the stone houses that line the main street. I remember marveling at the colors of the shutters, pistachio, aubergine, coffee cream, and faded baby blue. On summer evenings they are swung wide open and held firmly in place against mushroom colored stone walls until the house regains its composure and breath.
I love to take a stroll along the river Lot, I usually stop and have a chat with the wise old men of the village who are scattered along the riverbank with their fishing rods in hand, contented smiles look up at me and nod: "Oui! Oui!" to my "ça va?" (how are you?)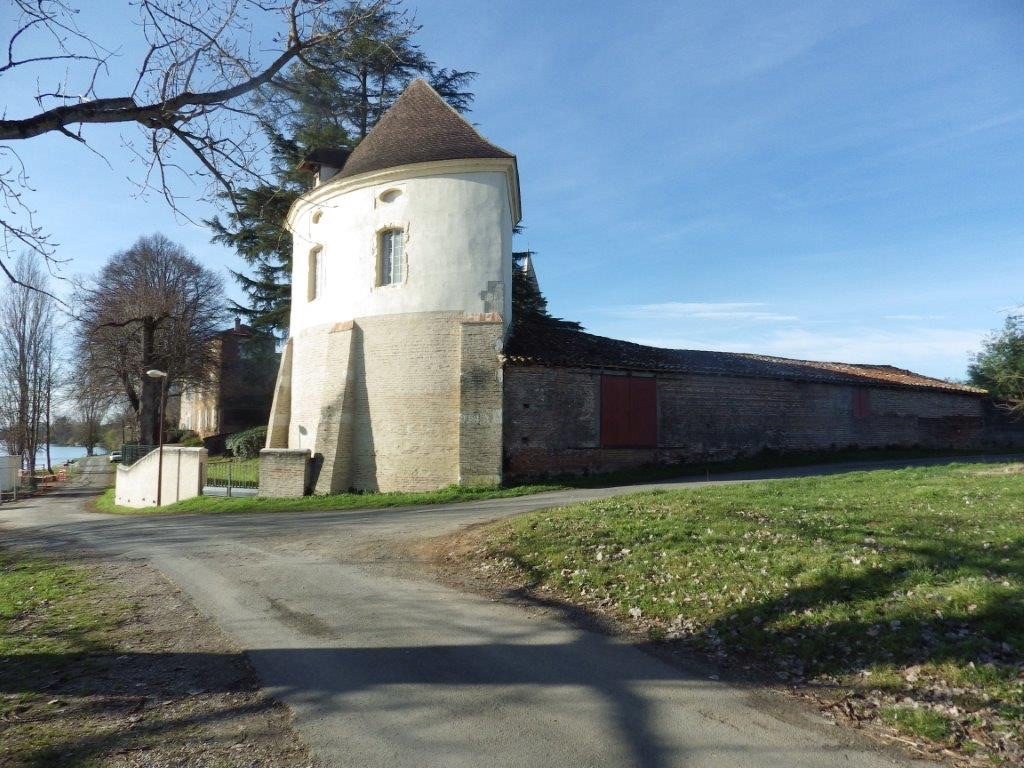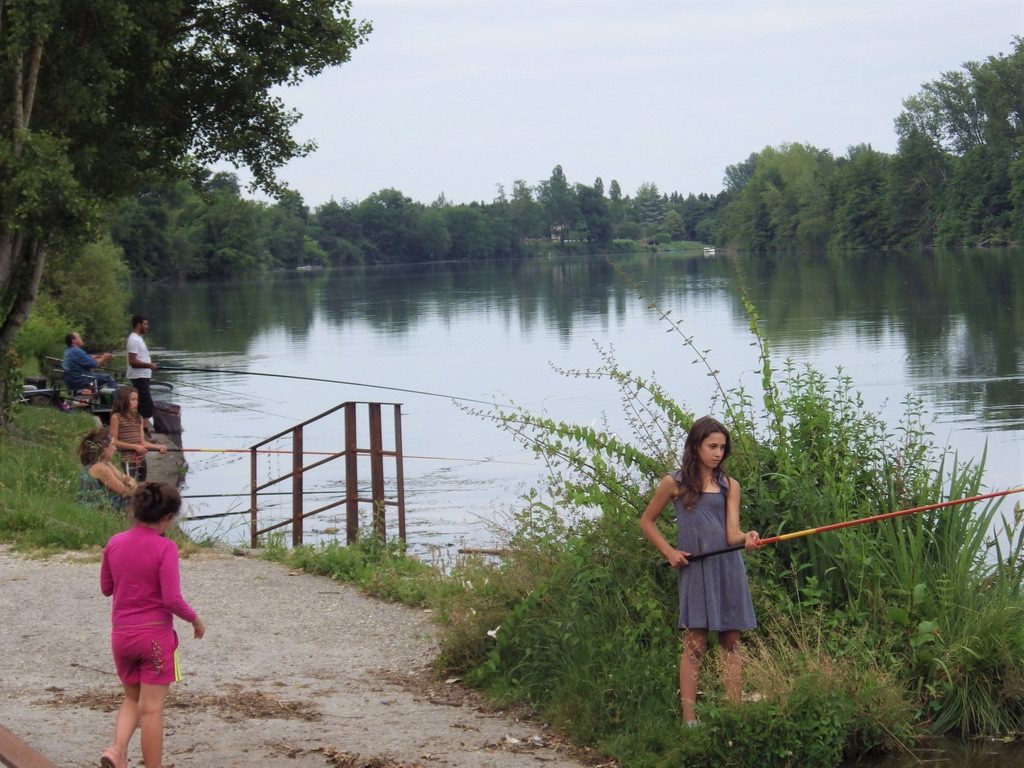 Some children cycle by and greet me with a friendly "Bonjour!" (Fongrave is on a cycle route where peaceful country roads promise panoramic river views!)
I stop at a nearby orchard pregnant with violet-blue plums, tempted, I sample its juicy fruit. The region is famous for its gastronomic standing, its abundant variety of fruit and produce, delicious strawberries, asparagus, hazelnuts and the tasty sweet fleshy tomatoes of Marmande, the plums are particularly exceptional, especially when soaked in brandy! a local specialty! It's just one big garden bed of delectable flavor!
The Lot-et-Garonne offers the best in country living. An unhurried pace of life and peaceful blissful rhythm. It's charmingly picturesque. The Lot-et-Garonne is a 'Garden of Eden' its beauty lies in its simplicity, in its relaxed composure and its gentle tranquil soul. I'm charmed by its endless green meadows full of wildflowers that neighbor fields of bright, blooming, cheery- faced sunflowers or the winter wheat as it shivers in the wind.
It has a rich and bloody history, too. Quaint little fortified villages known as bastides are perched on the surrounding hilltops where they could control the countryside during the hundred-year war between the French and the English.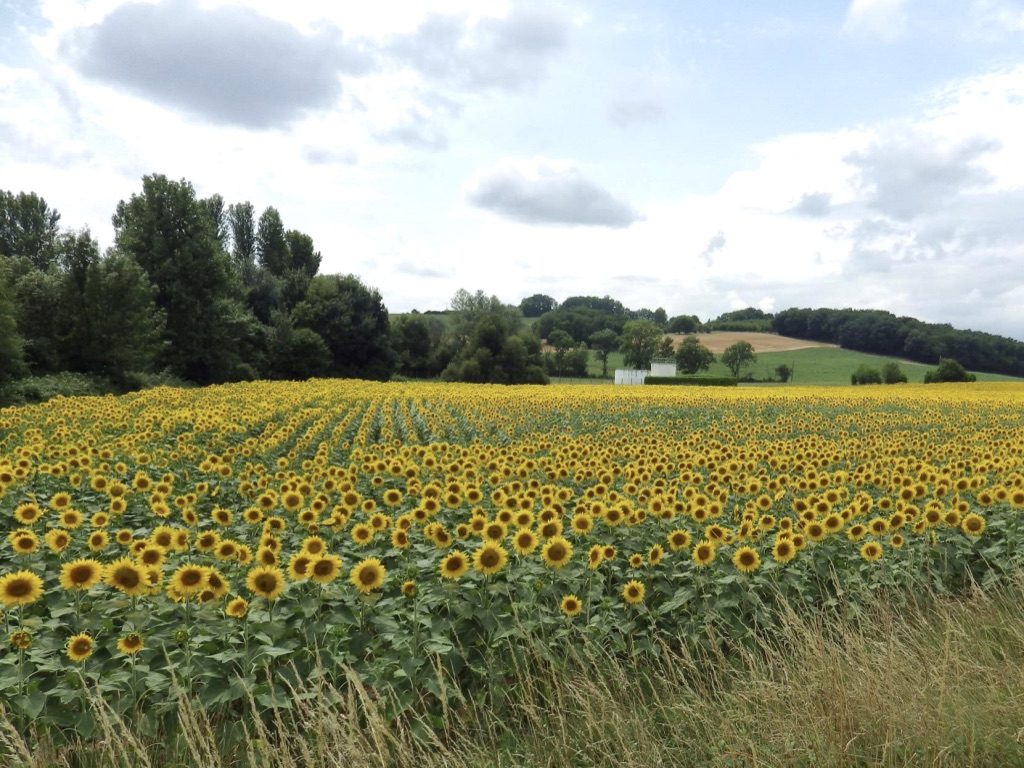 My favorite bastide is Pujols which is classed among the most beautiful villages in France. One of my favorite restaurants, 'Villa Smeralda' is in Pujols, in a restored medieval cottage, there is also a leafy, outdoor courtyard, perfect for a sultry summer evening complete with an air of romance! Tables are laden with appetizingly scrumptious, Sardinian cuisine. Market day is on Sunday and after buying the local produce you can enjoy a leisurely stroll through the village. It's such an adorable village with medieval houses, galleries, a wooden toy and workshop (great for the kids!) and several inviting cafés for a cake and coffee stop!
As you drive around the area you will see a moulin (windmill) dotted here and there, old ruins steeped in history or towering chateaux (castles) with generations of stories and even secrets embedded within the walls.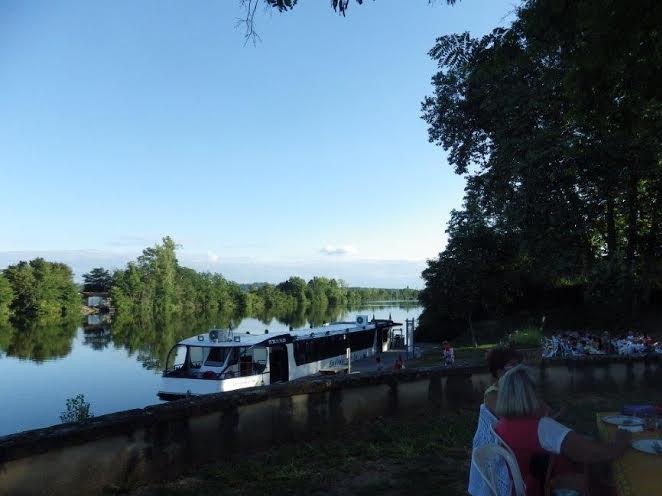 I love the night markets held usually in the village square where friends and neighbors gather and anyone can come and sample the local fare. or take a boat ride down the Lot. Everyone eats together and it's a good place to mingle and become familiar with the French, their culture and cuisine.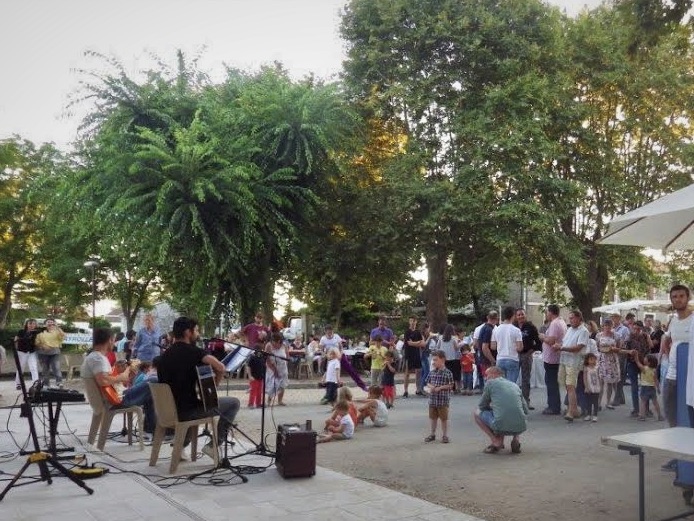 I remember one open-air night market I went to, in Fongrave, eight or so of us were sharing a table. The live band was well underway. It was a sixties night and the lively square was filled with a good many from that era, rocking away to the Beatles. We were eating tasty mounds of fries, some dipping them into bowls of steamy bœuf bourguignon. Others who were more daring than me tried the 'escargots de Bourgogne'. I'm an Australian, a place where snails never end up on your plate!
I glanced over at my friend she was talking affectionately about the still, quiet beauty of the river Lot, its gentle serenity in the first morning light.
My friend has lived on an old barge boat for many years and although English, she lives her life as if she is French. I noted her face had a more youthful glow and when I mentioned it to her, she laughed and said: " Joy and France are the best face creams!"
The Lot-et-Garonne is a haven for sensitive souls who loathe handling a rapidly changing noisy world and so they step back in time and come here, to a region once described by the Stendhal, the 19th -century writer, as a "French Tuscany".
The Lot -et-Garonne is a haven for poets, painters, writers, and people who long to gaze on an endless beauty, for that too is an art, "the art of admiring".
I hope you enjoyed this article about the beautiful Lot-et-Garonne and I can't wait to share some more travel inspiration with you again soon!
Julia x ( Senior Travel Editor)
Renata Huster is a freelance writer and author. As a lover of adventure, she has traveled extensively throughout the world, and she is an avid reader and lover of art.
frenchcountryliving
frenchlife
garonne
gastronomicfrance
lot
lotetgaronne
relaxedliving
theslowlife