It's that time of year when the Christmas parties are fast approaching and the thorny question of what to wear rears its ugly head. Uttering the words "party look" is enough to make some people run for cover or curl up in front of the fire with their two favourite guys 'Ben' and 'Jerry'.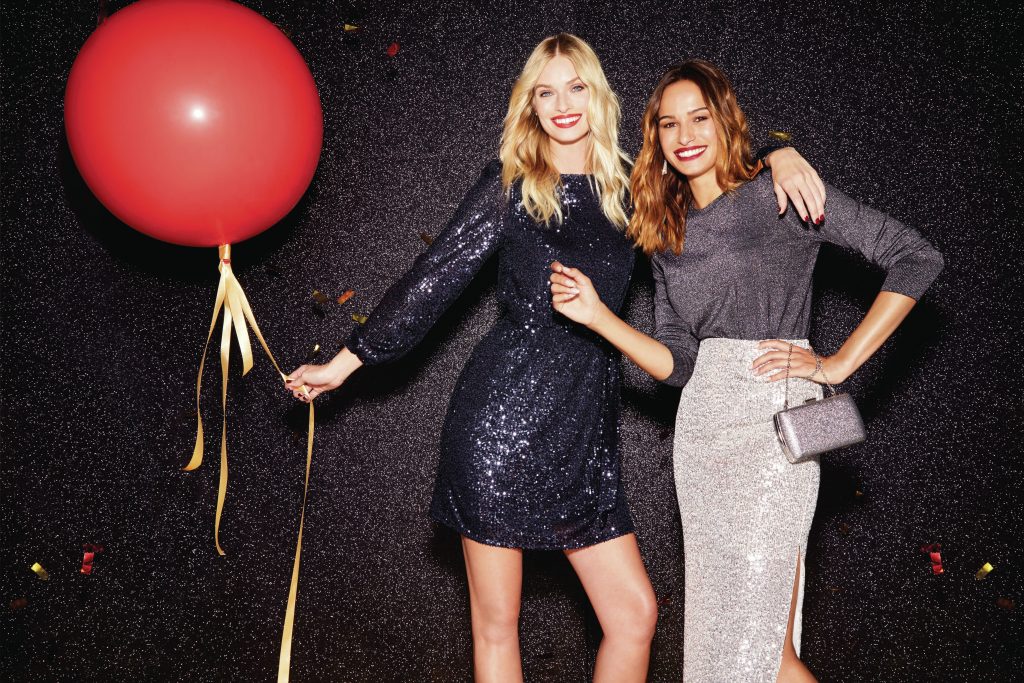 From office events to family reunions, as well as catching up with friends you haven't seen for a while, there are plenty of reasons to 'glam up'.
But, there are also plenty of potentially stressful situations, from negotiating the office politics, bumping into significant 'ex' others, family get togethers with aunts and uncles you didn't even know you had to friends dropping in unexpectedly.
So, it's not always that easy to decide on what to wear and how formal/ dressed up/ casual to be. It's a thin line between boring and over the top !
The key to not letting party dressing seem stressful is to be prepared. So, that means starting to think sparkle and sequins now, and start to inject a little of your personality into your party look. If you can't have fun with fashion at Christmas, when can you?
If you don't know where to start or, in fact, hate the thought of having to really consider what to wear at all, then here are a few ideas of outfits to give you some inspiration for the festive season, and to take you from the office Christmas party through to New Year's Eve !
T'is the season to be glam : How to Perfect your Party Look
I love an occasion to 'glam it up', so I will always reach for a dress, but don't worry if this is not your style, I've got you covered too!
I'm going to kick off with my favourite glam party looks.
Bewitch in black
I'm a great fan of dresses and you can't go wrong with a LBD. You can choose how much to dress it up or down, and you can even make some last minute changes when you arrive at the party!
For example, pop a statement necklace or some dressy earrings in your bag and when you arrive at the party if you feel underdressed just add some bling.
You can dress it up with a sparkly clutch and some heels too!
Two of the most iconic black dresses are the "Givenchy" black gown, worn by Audrey Hepburn in the opening scene of 'Breakfast at Tiffany's and the "revenge dress" worn by Princess Diana when her estranged husband Prince Charles gave a television interview in which he confessed his infidelity with then-mistress Camilla Parker-Bowles.
Instead of hiding away, Diana pulled herself together, dressed up in this daringly short and off-the-shoulder sexy dress, held her head high, and made a public appearance at a party hosted by Vanity Fair. The dress by designer Christina Stambolian has since been dubbed "the revenge dress." `

Rachel from @ chic_glam_style styled the dress below (from @rienbypennyvomva) perfectly with these metallic boots, and the belt is the perfect finishing touch.
Images courtesy of Rachel from @ chic_glam_style

If you're looking for a chic black dress for your party look this season, then have a look at the selection below, all from JJ's house. All of these would be perfect for a party look and you can get 10% off any purchase from their site with the code "PARTY", which is valid until December 31st.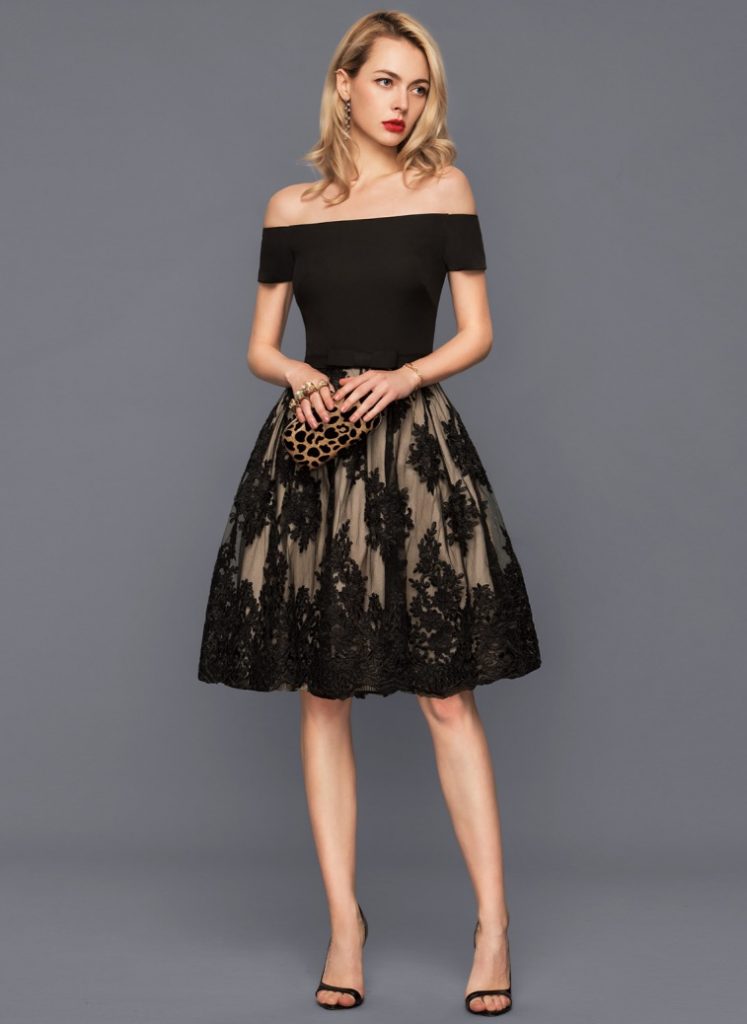 Click on the relevant link for details: Dress 1 , Dress 2, Dress 3, Dress 4
Glitter in Gold

If you can't wear gold at a Christmas party, when can you ? The dress below exudes glamour and elegance.
Gold is a metallic bright color that goes well with all skin tones, but if you are using it as the primary color of your outfit, then accessorizing it may become a little tricky.
As it makes enough of a statement in its own right, keep all your accessories simple so that the dress is the focus of your party look.
It seems obvious but the most important accessory you need to pull off this party look is confidence! You may be able to keep a low profile in a simple LBD or your favourite jeans, but a gold dress (especially if it is a sequin dress) simply demands attention and will place you firmly in the spotlight.
This stunning gold dress from JJ's House is certain to ensure that all eyes are on you, when you walk in the room.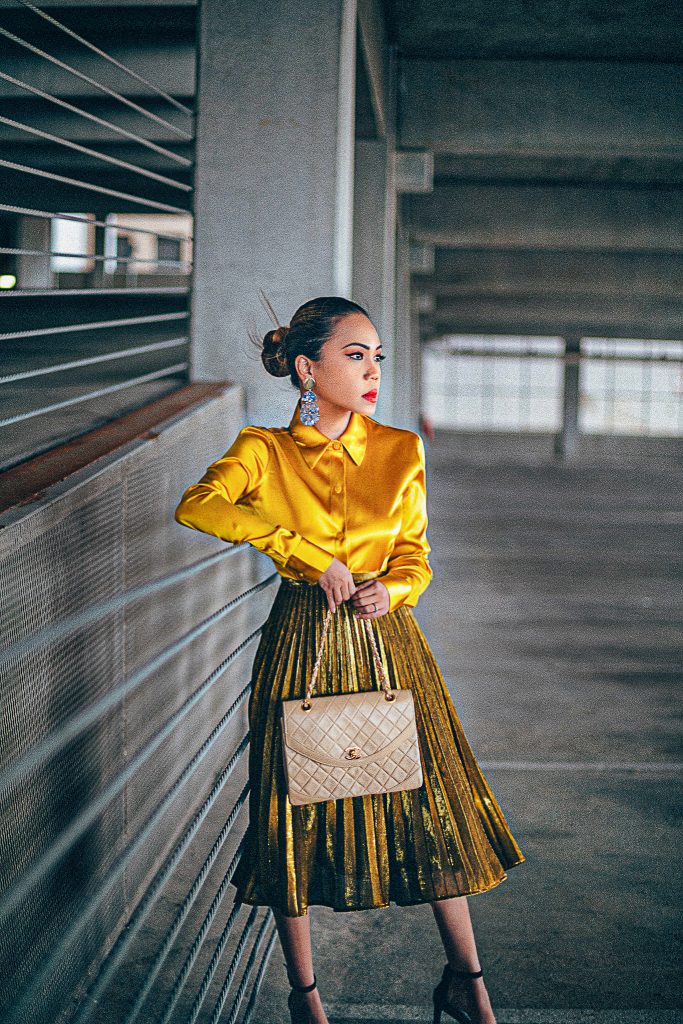 Or you can opt for separates for your party look, such as this metallic gold skirt, which Len from @thelenparentstyle styles perfectly in the example above, pairing the sparkly gold skirt with a neutral beige bag.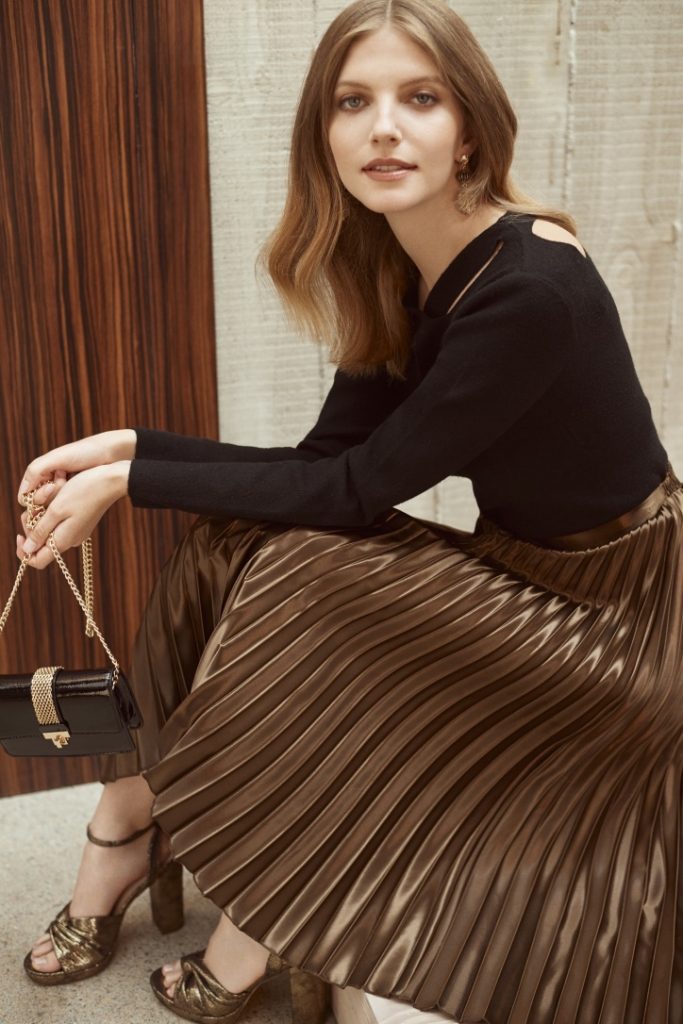 I also love this gold, bronze skirt from Dorothy Perkins, which looks fabulous with a simple black top.
Sparkle in silver

Silver dresses are both glamorous and elegant, but when styling a silver dress, simplicity is key.
Like gold, silver makes a statement on its own, so the last thing you need are big, overpowering accessories that outshine the dress.
Make sure to stick with cool tones and keep your jewellery simple. Diamonds or rhinestones compliment silver perfectly as they add even more sparkle and shine to your dress – but make sure to keep them small and delicate.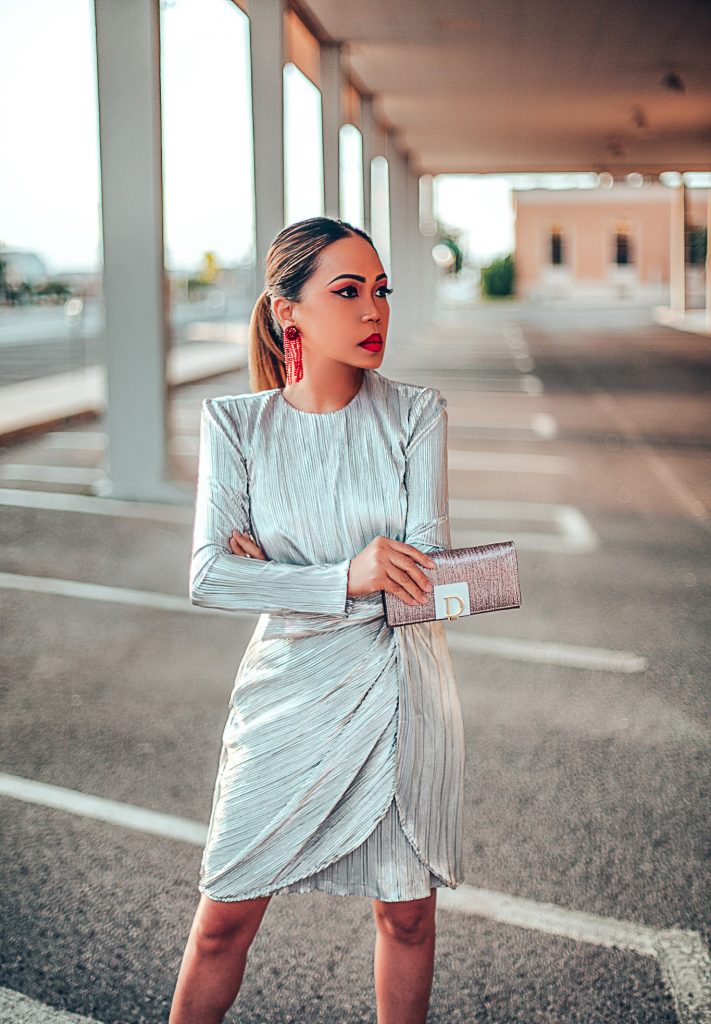 Len from @thelenparentstyle paired this stunning silver dress with a small leather mini clutch from @dolorey_official. This clutch is perfect for a special event and the gold design and pink tone gives it just the right amount of glitz for the perfect party look.
Have a look also at this glamorous evening dress from JJ's House and don't forget you can get 10% off any purchase up until December 31st with the code "PARTY"
Revel in Red
When in doubt, wear red

Bill Blass
We all love a red dress for a special occasion, and a woman in a red dress exudes power, confidence, passion and sex appeal.
The "Red Dress Effect" is a putative phenomenon in which people wearing red clothing, such as a red dress, are perceived to be more sexually appealing than they are when wearing other colours." – Wikipedia.
In fact, men are statistically proven to spend more money on a date with a woman who wears red, and it is definitely an attention-grabbing colour that will make you the leading lady!
Images courtesy of Len from @thelenparentstyle
The full skirt and stunning sleeves make this Mariella pleated midi dress from @khaite_ny a perfect choice for the holidays.
It's perfectly styled by Len from @thelenparentstyle, with matching accessories and lip colour. This dress is such a show-stopper, and the flattering cut makes it a perfect choice for your party look.
However, if you want to wear this in the day, just throw a black jumper over the top and pair with some boots for a dressed down version!
Here's a selection of some of my favorite red dresses that would all fit the bill for a party look.
Party in Pink

Pink is a combination of red and white, so combines the passion and power of red with the pureness and softness of white. It represents compassion, nurturing and love. The deeper the pink, the closer it is aligned to red.
It is a perfect choice for a party look as it's fun, flirty and signifies happiness and joy.
Many women are put off wearing pink, because they fear the stereotypes associated with it, but pink can be ultra-sophisticated and stylish, and with all the different nuances of pink, there is a shade that suits everyone.
Images courtesy of from @rienbypennyvomva

This 'Velvet Kiss' wrap dress from @rienbypennyvomva doesn't make me think of Barbie at all!

Make a Statement in a Suit

If you're not a fan of party dresses, and/or the party takes place during the daytime, you may feel more comfortable choosing glamorous separates.
You can pair an elegant pair of dressy trousers, or a dressy skirt with a glamorous silk or sparkly top for a simple understated party look.
I recommend black, wide leg trousers or a lace, pencil skirt as this classic silhouette is very flattering and glamorous, and you can then dress up or down with a sparkly top or a simple silk shirt. Similarly, a dressy skirt with a simple black top has the same impact.
Dress up your jeans
However, if you prefer to look like you 'just threw this old thing on', or don't want to look too 'done', you might feel more comfortable pairing your jeans with a sparkly top/ silk top / ruffles or feathered top.
I would opt for sophisticated dark blue or black jeans and pair them with:
A sparkly metallic top
A silky top
A velvet top
A transparent, sheer top
Ruffles or a feather-embellished top
A top with puff/ statement sleeves
Alternatively, you could opt for an elegant silk or satin kimono, such as the "Amertine Kimono" from @rienbypennyvomva, worn open over straight-leg jeans. It's also a perfect solution if you're going out straight from work, as you can just add the kimono and some heels at the last minute.
Here are a few of my kimono picks, which are guaranteed to add sparkle to any outfit.
Other tricks include playing with accessories to dress up your look.
It's all in the details
Sparkly heels
Since it's the festive season you can never have enough sparkle or shine. So why not dress up your outfit with a great pair of heels? The simpler your outfit, the more you can experiment with heels. Consider pairing bright metallic shoes with a simple LBD. From silver to gold to multi-coloured glitter, metallic heels will give you that extra twinkle in your step, and add the perfect finishing touch to your party look.
Here are a few of my picks
Statement jewellery
Some carefully selected jewelry can also transform your look - just remember that less is more and don't overdo it. You don't want to look like someone mistook you for the Christmas tree and hung too many decorations on you!
Again, the simpler your outfit the more your jewelry can make a statement.
These pieces from AdornMonde will add sparkle to any outfit, and their Fall Collection is appropriately called "Bling Bling".
Click the relevant links for more :
Top Row : Cosmos Gold 925 Silver Crystal Necklace, Cristof Gold 925 Silver Crystal Hoop Earrings, Igar Gold Crystal Signet Ring
Bottom Row : Chayce Gold 925 Silver Crystal Pinkie Ring, Thames Gold 925 Silver Crystal Necklace ,
" At AdornMonde, our purpose is simple — to design and create beautiful, limited edition, fashion jewelry collections, that are, well....fashionable
I've already added a couple of the above pieces to my Christmas Wish List!
Make-up
This is the time you can have fun with your make-up, especially for an evening event. Try a gold eyeshadow and/or a bright, red lip to complete your party look!
I hope you enjoyed this article on 'how to dress for the party season' and I can't wait to share some more tips from France with you soon. I'm Julia Rees and I'm a French-based Style Coach and the founder and owner of the 'Style with Julia' Styling Agency.
Wishing you a fun festive period and in the meantime, you can find inspiration on my blog and follow along on Instagram. Don't forget to check out all the other fabulous posts by the other Editors and follow The Code of Style on Instagram.
Julia x

#bestpartydresses2019
#bestpartylooks2019
#christmaspartylooks
#festiveseason
#partydresses
#partyseason
#partystyle
#perfectyourpartylook
#style